---
Friday, 29 October 1999
Weekend Dispatch
---

DreamWorks links with Aardman: Alliances are everything in the highly competitive world of feature-length animation, as the dominant Disney has learned by teaming up with Steve Jobs' Pixar studios, the folks behind Toy Story and A Bug's Life. Both Warner (The Iron Giant) and DreamWorks SKG (The Prince of Egypt) have shown that they are willing to compete for the Mouse's undisputed animation crown, and the Spielberg/Katzenberg/Geffen firm landed a big fish on Wednesday by signing a four-picture deal with Aardman Animations, the Nick Park-led animation house behind the popular "Wallace and Grommit" claymation shorts The Wrong Trousers and A Close Shave. DreamWorks is currently co-producing the first feature-length Aardman film, Chicken Run, due to arrive in North American theaters next summer (with the voices of Mel Gibson and Miranda Richardson), and the new deal will ensure that further Aardman flicks gain high-profile releases in coming years. Up next? Details are scarce, but reportedly the talented Park is interested in adapting the Aesop's fable "The Tortoise and the Hare" as a future clay-flick.
But don't think The Mouse isn't looking to the future as well. Earlier this week, Disney merged its animation and special-effects units into one production house, which is now known as "The Secret Lab." With both their live-action technicians and animation wizards working under one roof, Diz hopes to lead the way in future film technologies. The move come on the heels of other Disney convergences, including a recent merging of their television-production division and the ABC-TV network.
IMDb upgrade: If you haven't dropped by the essential Internet Movie Database lately, they've installed some new templates with a thematic dash of blue, along with a new "Page Flicker" interface. We like it.

Quotable: "I think I would not be in (contemporary movies), not to sound righteous about it. I'm looking back a couple of generations now, when nothing like that was on the screen... it was unheard of. I think my third or fourth picture, called Duel in the Sun, was banned by the Catholic Legion of Decency because of nothing really except Jennifer Jones and I were obviously not in a state of grace, shall I say, because I was looking at her rump once or twice. But compared to today's stuff, which is soft porn... you consider that studios now are all owned by vast conglomerates. They have amusement parks. They make records, they have television. We're allowing conglomerates to determine the tone of our culture."
— Gregory Peck, in a recent interview
with Reuters.
Coming Attractions: Hey gang, it's the last weekend to enter this month's Free DVD Contest, but we'll be back next week with a new contest and reader poll for November, and we'll also announce our latest winner (will you win the Nightmare on Elm Street DVD?). We'll also have several new DVD reviews on the board, so check back on Monday morning for the skinny.
We're off to wear silly costumes, eat bite-sized candy bars, and drink some cold beer. Have a great weekend (and don't forget to turn your clocks back one hour on Saturday night).
— Ed.
---
Thursday, 28 October 1999
---
Switch-hitting: Did anybody besides us catch the commercial for the Saving Private Ryan DVD during the World Series last night? It wasn't one of those "Available on videocassette and DVD" blurbs, it was just a spot for the DVD, praising both the film and the quality of the format, and in one of the most expensive TV time-slots of the year. And some said these little discs didn't stand a chance back in '97.

A toothy topic: We got lots of letters yesterday from DVD Journal readers regarding Universal's upcoming release of Dracula: Classic Monster Collection and the new score by Phillip Glass (see Wednesday's update). Here are a few:
I'm pretty certain the upcoming DVD release of
Dracula will contain both soundtracks, the original and the Glass version. One reason that I think this will be the case is that Universal is currently selling both versions on VHS. They have heavily promoted the Glass re-scored version, but the original 1931 version was re-promoted at the same time in virtually the same packaging. I can't imagine that Universal would go to the trouble of reissuing the movie and not including the 1931 track as one of the options.
— Peter
Peter got us there — a quick online check revealed that Universal indeed has released two different versions of Dracula on VHS, which just goes to show that VHS news doesn't run in our blood. DVD Journal reader Bryan added few more details:
The VHS edition of
Dracula without the Glass score is packaged like the other releases, while the version with the score comes in a plastic slipcase. I have seen them both at Media Play and surprisingly, both at the same price. To be honest, I cannot believe Universal would not make the score available to turn off on the DVD. But then again, the Philip Glass website only mentioned that it could be isolated.
— Bryan
So is the Glass score available as an isolated track on the DVD, as an alternate to the original track, or both? Or are there going to be two separate DVDs, like the two videotapes? We had no idea at this point — but wait, the clot thickens:
Based on what I have heard, Philip Glass's score may not be the only audio track available on the new
Dracula DVD. About a month ago, I was involved in an interactive chat with David Shin, Director of Interactive Marketing for Universal Home Video, at The Home Theater Forum. I posed a question about the DVD, and he said there would be three versions of the film: the Spanish version, the Philip Glass score, as well as the original unscored version. Hope this helps.
— Jerry
Jerry's comments sounded a lot more promising than yesterday's scarce Dracula details, but it still wasn't the final nail in the coffin. Finally, we got Matt Kalinowski — assistant publicist for home video and DVD at Universal — on the phone, and he confirmed that the original soundtrack will be available. The Phillip Glass score is an option after all. Extras on the disc will be simliar to other releases in the "Classic Monster Collection" and will include the documentary "The Road to Dracula," a commentary track by film historian David J. Skal, an introduction to the Spanish Dracula by lead actress Lupita Tovar Kohner, a photo montage, a trailer, production notes, cast and crew supplements, and weblinks, all due on Dec. 21. Sounds good to us.

"Missing in Action" Flick of the Week: Orson Welles' Citizen Kane has now been released in Region 2 and even in Region 4 (which is a code-free edition), but no Region 1 DVD is on the horizon. Are we getting screwed? We hope not. In fact, our hope is that Warner (who we understand currently has the rights) is evaluating all of the source materials and possible supplements to release one of the greatest discs ever. We're willing to be patient, but in the meantime, we'd love to see Welles' 1958 Touch of Evil on DVD. It may not be the utter masterwork that Kane is, but it contains some passages that are equally brilliant, and in many ways it's a more entertaining movie. Charlton Heston stars as Mike Vargas, a high-level Mexican government official who is passing through an out-of-the-way border town with his new American bride Susan (Janet Leigh) when a car is suddenly destroyed by a bomb. Vargas' ingrained sense of justice immediately causes him to pursue the case, but he has no choice but to defer to Hank Quinlan (Welles), a bloated bully of a cop who often resorts to questionable tactics in order to gain confessions from suspects. Both men chase down leads, but in the process they spend even more time battling each other. From its famous unbroken three-minute opening shot (achieved long before the Stedicam was invented) to the inevitable bitter end, Touch of Evil is a loud, trashy, sordid ride through the underbelly of redneck law-and-order, and while it may have failed to make any sort of impression at the box office upon its release, the film has served as a blueprint for many B-movie-inspired directors since. Whether you're watching a movie by David Lynch, Quentin Tarantino, or numerous other popular directors from recent years, you can always find traces of Touch of Evil hidden in the details.
The rights to Touch of Evil are pretty straightforward stuff — Universal currently owns the film, as they always have. However, the recent "restoration" and theatrical re-release of this masterpiece leaves the details of any future DVD edition in question. As happened too many times in Welles' career, Touch of Evil was re-cut by the studio bean-counters after Welles finished it and then released without his approval (despite its brilliance, Welles always disowned the film). But when a 58-page memo on the film's production from Welles to Universal Studios chief Ed Muhl was discovered, the film was re-cut again in 1998 as a version that is believed to be more consistent with Welles' original vision. The new Touch of Evil fared well with both critics and film buffs, and it's likely that it will eventually be regarded as the "official" edition when it reaches home video. So where does that leave the 1958 cut? Nowhere in particular, if you ask us. We're not sure if the 1958 version will go out-of-print on VHS (it could), but we are only expecting a new DVD of the 1998 edition, possibly sometime next year. If you don't already own the current home-video release and you intend to eventually have both versions in your personal collection, you may want to start looking for a Laserdisc or VHS copy of the original before much longer. Its days could be numbered.
Quotable: "I figured it's this old-guy drug. If you can't get a hard-on, you take Viagra. But then these guys start telling me, 'No, no, no, you can take it too, and it's like you were 14 and jerking off six times a day.'.... (But) I almost had a heart attack. I had to sit down, and all it did was make me sweat and feel dizzy. And really unnerved. I felt no sexual side effects whatsoever."
— Ben Affleck, discussing a recent experiment with
a very popular blue pill in the December issue
of Playboy.
— Ed.
---
Wednesday, 27 October 1999
---

"Dracula" reborn?: We had a few readers send us concerned letters yesterday regarding the feature-set on Universal's upcoming Dracula: Classic Monster Collection, and in particular, the new score by Philip Glass. In fact, some even said that they would not buy the DVD if the soundtrack with Glass's score is the only one available. Frankly, when we glanced at the release notes for the disc we naively presumed that the Glass score would only be an optional track because, well, not preserving the original soundtrack as part of a "classic" release seems downright insane, and particularly for Dracula, which, like Frankenstein, is largely free of music. After all, our understanding is that Universal's "Classic Monster Collection" is supposed to be about restoring the films in the series to their original theatrical condition. But (while we haven't been able to confirm the info either way) we now suspect that the Glass-scored track might be the only option on the disc, as it is on the current VHS edition. And if that turns out to be the case, it will be very disappointing. Using the increased content and interactivity of DVD to experiment with different versions of a film is a laudable idea, and it can be fun too, but it should never happen at the expense of committing a classic film to disc in its original condition — the inimitable talents of Philip Glass aside. Our high expectations for the forthcoming Dracula have been suitably adjusted, and if you have enjoyed Universal's recent releases of Frankenstein and The Mummy like we have, be happy about one thing — Glass recently noted in an interview that Universal had sent him those two films for new scores, which he has offered to do as well. Fortunately, both are already on disc in their original versions.

Mailbag: Wednesday is mail day here at The DVD Journal, so let's get to it:
Does
Halloween: Restored Limited Edition have closed-captioning? I hope this is true, because I am Deaf and a long-time fan of the movie. Anchor Bay Home Video hardly sells DVD movies with closed-captioning or subtitles. Please let me know whether it is true that Halloween: RLE is closed-captioned.
— Darren
We normally don't check for closed-captioning on DVDs because many releases offer something far superior — subtitles for the hearing-impaired, which usually look more attractive than the standard closed-captioning font, load faster, and can often be flipped on-and-off without any delay. And every digital die-hard knows that you don't have to be hearing-impaired or deaf to appreciate subtitles — we can't tell you how many times we've turned to the captions for some Brit-flicks (Trainspotting would be impossible to understand the first time around without 'em) or just to enjoy films at a lower volume now and then. Therefore, it came as a complete surprise to us when we double-checked Halloween: Restored Limited Edition and discovered that the disc doesn't offer either closed-captioning or English subtitles. Any studio who claims that such features only benefit a few DVD consumers are kidding themselves and not doing us any favors in the process. Just about everybody appreciates captioning, and the omission on Halloween: RLE is an unfortunate blight on an otherwise excellent release.
In a recent article about George Lucas and his refusal to release
Star Wars on DVD, you mentioned something to the effect that "used" Laserdisc players are selling relatively "cheap" nowadays. Well, where can I find one? I have decided that now is a good time to buy. Thanks.
— Paul
Used Laserdisc players aren't exactly for sale on every street corner, but with a little effort anybody should be able to score one at a reasonable price, and especially since the introduction of DVD, which has sounded a premature death-knell for the format. A good place to start is any second-hand shop in your local area that deals in used TVs, VCRs, boom-boxes, and things like that. They will sometimes get LD players in as well, and they often sell them cheap because of the limited demand (and sometimes because they just don't know what to do with them either). But even some second-hand shops won't deal Laserdisc players because they can take a long time to sell, and moving product is the function of any business. Therefore, it's also a good idea to scan through your local classifieds, which should have several players hidden in the small print. A third option is to visit the ultimate classified section of the digital age, eBay, where the decks themselves aren't only available, but are often included in job-lots with a stack of discs for a good price. The only downside with eBay is that you will probably have to pay to ship the item, which will add to the overall cost. Wherever you buy, plan to pay between $50 - $150. If anybody wants more than that, keep looking.
However, even if you find a good deal, don't just buy any old Laserdisc player. Like all consumer electronics, reliability is important, and especially with LD players, since you will want your new deck to last for years to come (with the depressed Laser market, the price of new players is only going to rise as demand continues to fall). You should stick with reliable brand names, and while we're not endorsing any particular manufacturer, we will say that we have a Pioneer LD player, and it's never let us down.
As for the Star Wars Laserdiscs, the 1997 "Special Editions" come at a steep price, even on eBay, but the THX-remastered editions released on VHS in 1995 were also released on LD, and while currently out-of-print, at least one online retailer recently was selling off their overstock at bargain-basement prices (and still may be). We found our 1995 trilogy roughly for the price of a new DVD, and that's not the price of each one — that's what we paid for all three. And while they aren't exactly DVD quality, they're far superior to VHS and very enjoyable. Thanks to the "dead" LD format, we're not nearly as bothered by George Lucas's DVD boycott as a lot of other folks seem to be.

"Witch" casts a British spell: Most of us have already experienced the Internet hype of The Blair Witch Project, been scared witless in the theaters, and now have seen the film again in our homes on DVD, but our friends in the UK just got a taste of the low-budget horror sensation for the first time last weekend, where it premiered in limited release and smashed box-office records across the country with an enormous $33,370 per-screen average. Pathe Distribution, who have the overseas rights to BWP (like Artisan, they bought them at this year's Sundance Festival) will take our doomed trio of foul-mouthed twentysomethings into wide release next weekend, where the camping creep-out is expected to break even more records.
Rent party: Reel.com has posted a new round of DVDs currently selling for 50% off, so don't pay retail —
punch this link instead and get the goods. Here's the current rock-bottom discs:
The Matrix — $12.49
Mission: Impossible — $14.99
Big Daddy (pre-order) — $12.49
Hush — $12.49
Broken Arrow — $14.99
Disturbing Behavior — $12.49
The Apostle: Collector's Edition — $17.49
How the Grinch Stole Christmas — $9.99
As Good As It Gets — $14.99
The Last Metro — $14.99
And don't forget, DVDs at Reel.com ship for less than two bucks.
— Ed.
---
Tuesday, 26 October 1999
---

In the Works: Let's get a look at some new disc announcements posted over the past few days at Image Entertainment:
Universal has a pair of teen comedies on the way as "Collector's Editions" — American Pie (Dec. 21), which will street in both the R-rated and unrated versions as separate discs, and Fast Times At Ridgemont High (Dec. 22). Both editions of American Pie will include a commentary track, outtakes, a featurette, music highlights, and a trailer. Ridgemont High will include a commentary, a "making-of" documentary, and a trailer.
The classic horror keeps coming from Universal as well, with their latest announcement being the 1931 Dracula (Dec. 21), which will be part of their comprehensive "Classic Monster Collection." The feature-set will include a documentary, a short featurette, a trailer, a new score by Phillip Glass, and — get this — the entire Spanish version of the film, which was shot at the same time and on the same sets, but with a different director and cast.
Other new releases on the way from Universal include Bowfinger: Special Edition (Jan. 18), Dudley Do Right (Dec. 28), and Mystery Men (Jan. 11).
If you'd rather not worry about scooping up all nine Disney animated classics one by one over the next few months, the Mouse House wants to make things easy for you with a fat box-set of all nine titles, due on Dec. 7. The MSRP is a hefty $359.99, and unlike the individual releases, which will be available for 60 days, the box will only be out for 20, scheduled to be withdrawn on Dec. 27.
In addition to the upcoming DVD release of Frank Capra's It Happened One Night (reported here last week), new discs from Columbia TriStar include the 1948 The Loves Of Carmen (Dec. 21) with Rita Hayworth and Glenn Ford, Run Lola Run: Special Edition (Dec. 21), Universal Soldier: The Return (Dec. 28), Desert Blue (Dec. 28), and Year Of The Gun (Dec. 21).
Elite has got film fans excited with a new release of silent classics entitled "Masterworks of the German Horror Cinema," which will include the 1922 Nosferatu, the 1920 The Golem, and the 1919 The Cabinet of Dr. Caligari. The trio will include liner notes and still galleries of original publicity materials, all due to arrive on Dec. 21.
Delta/LaserLight recently released a Chaplin Marathon DVD comprising the classic shorts "The Immigrant" and "A Dog's Life" along with Chaplin's first feature-length production, The Kid. As with all LaserLight DVDs, Tony Curtis is on hand with one of his incomprehensible introductions, which have become a guilty pleasure for fans of the series.
New stuff on the way from New Line includes Corrina Corrina, 8 Seconds, Now and Then, and Drop Dead Gorgeous. All are expected on Dec. 14.
Universal's "Collector's Edition" release of The Apostle has been discontinued, and the rights have now transferred to USA Home Entertainment, who will release a virtually identical disc on Nov. 11, but with a cheaper street price.
Street date changes include The 39 Steps: The Criterion Collection (Nov. 2), Charade: The Criterion Collection (Nov. 2), The Last Picture Show: Special Edition (Nov. 30), Five Easy Pieces (Dec. 14), and the "Star Trek TV" discs #5 and #6 (Dec. 14).

On the Street: Quite a few exciting new releases are on the street this morning, including the first animated Disney DVD, Pinocchio, the Talking Heads' concert film Stop Making Sense, Stephen King's The Stand (the first major DVD-18), and Gus Van Sant's Drugstore Cowboy. Here's this morning's notable street discs, courtesy of Reel.com:
Arlington Road
The Beauty Investigator
Creepshow
Digging to China
Drugstore Cowboy
Emma (1997)
The Eric Clapton Chronicles
Falling Down
The General (1927)
Hideous Kinky
Hot War: Special Edition
House on Haunted Hill (1958)
Muppets From Space
My Best Girl (1927)
Never Been Kissed
Nighthawks
The Occupant
Pinocchio: Limited Edition
The Pompatus of Love
Salem's Lot
Short Cinema Journal, Vol. 6
Stargate: Special Edition
Steamboat Bill Jr. (1928)
Stephen King's The Stand (1994)
Stonewall
Stop Making Sense
Suck It And See
The Taming of the Shrew (1967)
Ten Benny
The Three Musketeers (1933)
Twice Upon a Yesterday (1999)
Finally: Today is also the street date for the Indiana Jones Trilogy, which has been digitally remastered and given a deluxe widescreen release on home video — on VHS, that is. However, George Lucas recently confirmed in an interview on French television that DVDs are being prepped, so don't go do something silly like spending your money on videotapes. Patience.
— Ed.
---
Monday, 25 October 1999
---

Disc of the Week: The slasher/horror genre, first pioneered in such classics as Halloween back in the '70s, failed to gain any new innovations during the '90s, as most major releases relied on stale set-ups and shopworn clichés. In fact, the situation had become so bad that the best-performing fright-flick in recent years has been Wes Craven's Scream — a film that built a reputation and repeat-viewership with a wink-and-nod approach to its own worn-out mold. But the low-budget, high-thrills The Blair Witch Project became a 1999 box-office sensation (to the tune of $130 million), and for good reason — people just love to have the shit scared out of them, which Blair Witch manages to do very, very effectively. Refusing to journey trails that others have already blazed, Blair Witch co-scenarists/directors Daniel Myrick and Eduardo Sanchez decided to cook up a good old-fashioned ghost story that doesn't rely on cheap shocks, gore, or buckets of blood, but instead gradually moves from a familiar world to unfamiliar surroundings, deftly supplanting notions of power and security with emotions of helplessness and scared-out-of-your-wits fear. In the process, Myrick and Sanchez also did something that rarely happens in the motion-picture industry nowadays — they made a film that is authentically original. The Blair Witch Project is worth seeing simply because there is no other cinematic experience like it. Detailing the events of three student filmmakers (Heather Donahue, Michael Williams, Josh Leonard) who enter the woods of Maryland in search of the "mythical" Blair Witch — only never to return or be seen again — the directors broached the concept of method acting like an arsonist who discovers a stray can of gasoline on a hot summer day. Rather than fashion a shooting script and let everybody look at it, Myrick and Sanchez sent their three charges into the woods — with genuine (and heavy) film equipment strapped to their backs — and then subjected them to the elements, a dwindling supply of food and smokes, and lots of things that go bump in the night (courtesy of the crew, who kept as close to the actors as possible while remaining unseen). With only the barest of notes to go on, and never aware of what their colleagues will do, Donahue, Williams, and Leonard deliver perfect performances that rarely strike a false note, leading up to a terrifying final sequence that should be watched with the lights on (that is, if you intend to get a good night's sleep). Artisan's DVD release of The Blair Witch Project is a feature-packed feast, with a solid transfer of the film in its original 1.33:1 aspect ratio within a matted overlay to preserve the rounded-off corners of the print. Audio is in the original Dolby Surround 2.0, and extras include a commentary with Myrick, Sanchez, and members of their crew; the 44-minute "documentary" Curse of the Blair Witch; a deleted scene; a textual supplement on the history of the Blair Witch legend; cast and crew notes; and DVD-ROM content that offers access to the Blair Witch website and many goodies contained therein. If you haven't snapped this one up yet, now is the time to get it for this weekend's Halloween parties.
Ghost in the machine?: Regrettably, like the many problems that have plagued the DVD-ROM intensive The Matrix, we have already received word that The Blair Witch Project is playing havoc with some first-generation DVD decks. If you are having problems with your disc, please let us know. We'll try to keep everybody updated.

Box Office: In a low-grossing weekend (the first since last March to see any film fail to reach the $10 million mark), Universal's The Best Man beat all challengers with $9.1 million in receipts, while Paramount's Double Jeopardy showed that it still has legs, snagging $7.7 million and holding second place after five weeks in theaters. But Fox's Fight Club showed a precipitous drop-off from $11 million in its opening weekend to only $6.3 million, despite many favorable reviews for both the film and its two leads, Brad Pitt and Edward Norton. The highly anticipated Martin Scorsese/Paul Schrader collaboration Bringing Out the Dead, starring Nicolas Cage, took fourth place with $6.2 million, which is well within estimates for a Scorsese film, but Warner's hot-hyped Three to Tango — sporting the sexy trio of Neve Campbell, Matthew Perry, and Dylan McDermott — didn't draw as expected on its opening weekend, only earning $4.6 million in receipts. Destination Films' Bats did little better with $4.7 million, but they aren't complaining, since the bloodsucking-rodent flick only cost $12 million and it's also the first release from the studio. Meanwhile, Sony's Random Hearts is already on the decline, never finding an audience despite Harrison Ford and Kristen Scott Thomas on the marquee — it garnered only $3 million over the weekend, and probably won't reach the $40 million mark before it's withdrawn. Here's the top-grossing films at American theaters from last weekend:
The Best Man (Universal)
$9,100,000 ($9,100,000 to date)
Double Jeopardy (Paramount)
$7,700,000 ($91,000,000 to date)
Fight Club (Fox)
$6,300,000 ($21,900,000 to date)
Bringing Out the Dead (Paramount)
$6,200,000 ($6,200,000 to date)
The Story of Us (Universal)
$5,500,000 ($17,900,000 to date)
American Beauty (DreamWorks)
$5,400,000 ($48,900,000 to date)
Bats (Destination)
$4,700,000 ($4,700,000 to date)
Three to Tango (Warner)
$4,600,000 ($4,600,000 to date)
The Sixth Sense (Buena Vista)
$4,300,000 ($255,700,000 to date)
Three Kings (Warner)
$4,290,000 ($50,100,000 to date)
Superstar (Paramount)
$3,600,000 ($21,100,000 to date)
Random Hearts (Sony)
$3,000,000 ($27,300,000 to date)
On the Board: A new full review has been posted for The Naked Kiss: The Criterion Collection, and can be found on our Full Reviews index. New quick reviews this week include The Blair Witch Project, A Fistful of Dollars, The Mummy (1932): Classic Monster Collection, Phantasm: Special Edition, and This Is My Father, and can be accessed under the New Reviews menu here on the main page.
We'll be back tomorrow to let you know about this week's street discs.
— Ed.
---
Friday, 22 October 1999
Weekend Dispatch
---

Street Friday for "Blair Witch": We're taking the day off in order to spin a few DVDs and take care of some much-needed site maintenance, but we'd like to remind everybody that today is the street date for The Blair Witch Project — the only DVD to be released on a Friday in recent memory. We're still trying to catch up on all of our reader mail, and we're way behind in cataloging all of your Missing in Action suggestions, but we'll be back on Monday morning with all the skinny, including new DVD reviews of The Mummy: Classic Monster Collection, A Fistful of Dollars, and others. Next week also will be the last week to enter this month's free DVD contest, so if you haven't done it yet, be sure to drop by our Contest Page to answer our trivia question, and don't forget to take our monthly DVD poll while you're there.
Have a great weekend.
— Ed.
---
Thursday, 21 October 1999
---
Bullseye!: Loyal DVD Journal readers know that we've been focusing on some choice Missing in Action DVDs lately, and (surprisingly) our batting average hasn't been all that bad. In particular, one of our most recent MIA features, Frank Capra's It Happened One Night, has now been given a street date by Columbia TriStar of Dec. 29, which is perfect for your Y2K parties. And check out the feature-set — a commentary track by Frank Capra, Jr., the original live radio broadcast, original advertising materials, cast and crew notes, and trailers for It Happened One Night, Mr. Smith Goes to Washington, and Lost Horizon. Pre-order junkies take note — CTHV has reduced their normal price, and this one's gonna go for around $15 at
Reel.com and some other online retailers. We're already there.
"The Wall" delayed: Were you looking for Pink Floyd: The Wall on DVD this week? So were we, until we discovered that it's been delayed until Nov. 23. Hang in there.

Disney goes underground: We thought that Disney was planning to release their upcoming classic animated DVDs with little fanfare. After all, Buena Vista isn't distributing preview screeners to any rental outlets or members of the press, and with the more than two years of demands that Disney animation be released on disc, they probably don't have to anyway. But leave it to The Mouse to keep us confused — Disney, in cooperation with the United Nations, will be sealing a 100-year time capsule called Pinocchio's Unity Star this weekend at U.N. headquarters in New York, and the event is in commemoration of the nine Disney DVDs and nothing else (!). Of course, all traces of cynicism have been banned from both the event and the press release, to wit:
Children visiting the United Nations will have the opportunity to place their wishes in the star time capsule, which will remain on display at the United Nations from the date of the event through the end of the 1999 calendar year. At the close of the century, Pinocchio's Unity Star will be housed in a special location at the United Nations for 100 years, until it is reopened on Oct. 23, 2099, providing the children of the future a glimpse of the wishes and dreams of the children of the 20th century.
So if you've got the urge to grab a box of Crayolas, scrawl the message "I rilly wish Elizabeth Hurley wuld do a nude scene," and drop it in the receptacle, be sure to be at the U.N. building at 10 a.m. sharp this Saturday.
Also, don't be misled by the announcement — the nine animated DVDs themselves will not be placed in the time capsule, which isn't a bad idea on Disney's part. A hundred years from now, digital die-hards would certainly pull the discs from the foundation, deposit them in their backwards-compatible ultraviolet-laser Super HD-DVD players, and ask a salient question — "What, no extras?"

"Missing in Action" Flick of the Week: Oscar Wilde was born in 1854 in Dublin, where he spent his boyhood, and where he eventually attended the famous Trinity College from 1871-74. One would think that these facts would more or less qualify him as an Irish writer, but unlike many of his Irish contemporaries who wrote for the stage — including William Butler Yeats, John Synge, and George Bernard Shaw — Wilde didn't give much of his attention to the plight of Ireland or the political issues of the day. In fact, most people tend to think of Wilde as an English writer because of his lack of literary attention to his own country. It was during Wilde's academic career at Oxford that he first began to show signs of great promise, initially with a series of poems and critical essays on the nature of art and aesthetics. By the 1880s Wilde had also become a celebrity, not only because of his poetry but also because of his very flamboyant personality. He was a "dandy," a young man with money, a good education, loose morals, and what was, for the time, very outrageous, colorful clothing that stood in stark relief to the traditional gray suits of England's upper-crust society. He was also very, very gay — and when this fact was revealed in an infamous 1895 court case, he was sentenced to two years in an English prison. After serving his time, he moved to France. He died a few years later at the age of 46. It's amazing that Oscar Wilde is considered a major figure in the canons English literature, considering that his total artistic output consists of a few collections of essays and poems, one novel, two epic poems, and four plays. But his genius has surmounted that limited body of work.
It was during the peak of Wilde's career that The Importance of Being Earnest was first produced on the London stage, and while the play is widely regarded as a masterpiece, only one major film from the script has been produced — Anthony Asquith's brilliant 1952 British production. Wilde's plot is so outrageously complicated that a mere summary only does it injustice, but suffice it to say that London dandies Algernon (Michael Denison) and Jack (Michael Redgrave) live dual lives — Algy always pretending to look after his sick friend "Bunbury" in order to leave the city for a spree of anonymous fun and avoid his overbearing aunt, Lady Bracknell (Edith Evans), while Jack has identities both in the city, as a licentious bachelor, and at his country estate, where his is a responsible family figure who looks after his sheltered niece Cecily (Dorothy Tutin). But when the two friends let their dual identities slip to each other, Algy decides to "Bunbury" at Jack's country house for a weekend, pretending to be Jack's long-lost brother, and before long he woos young Cecily, which sends Jack into a tizzy. In the meantime, Jack falls in love with Algy's cousin Gwendolyn (Joan Greenwood), but he has to deal with both Algy and Lady Bracknell if the pair are to reach the altar. Algy, for one, doesn't approve of the union — he insists that Jack is irresponsibly duplicitous.
The Importance of Being Earnest is one of the supreme triumphs of the English language, and the 1952 film is more than up to the task of conveying Wilde's sentiment-skewering wit. The actors tackle the script with flair, delivering every line with delicious timing, and Asquith judiciously downplays the more farcical elements of the plot (frequently overdone in many stage productions), letting Wilde's dialogue do all the work. "Mystery is the essence of romance," Algy declares. "Should I ever get married, I shall do my best to forget about it." Cecily, writing her diary, notes it to be "simply a very young girl's record of her own thoughts and impressions, and consequently meant for publication." And Lady Bracknell, who believes that young people can easily wait until their thirties to be married, claims that "London society is full of women of the highest birth who, of their own free will, have remained thirty-five for years."
Unfortunately, The Importance of Being Earnest is as MIA as any film we've ever come across. Originally produced by Two Cities Films Ltd., a VHS edition was in circulation for years, but it has been long out-of-print. Criterion released a Laserdisc edition (our inset photo above), but that's currently out-of-print as well, only to be found on eBay or in your local secondhand shop if you're extremely fortunate. We only have a copy taped off cable television in our library, and it's actually a prized collectable to us. And since Criterion is no longer able to sell their Laserdisc, that means that somebody, somewhere, probably has the rights to this film. But it appears that there's no market for it on home video in the U.S., and our hopes for a Criterion DVD at the moment are not high. For now, you'll have to keep an eye on the middle-of-the-night listings in your TV Guide if you want to catch this sublime treat.
— Ed.
---
Wednesday, 20 October 1999
---

Mailbag: It's time to clean out some of the reader mail here at The DVD Journal:
Your news regarding the finding of the actual Schindler's list
[see last Monday's update] got me to thinking about Spielberg's movie. I think a different and compelling case can be made for the DVD release of this film that does not necessarily apply to other Spielberg films. This film is unique in that I believe Spielberg is donating all profits to his video project to visually record the recollections of actual Holocaust survivors. Furthermore, Spielberg's primary motivation for this film was not profit, but to have as many people as possible see it. I would think he would even secretly approve of bootleg copies of this film being distributed as it would increase the ultimate viewership, and thus promote even more awareness of this dark chapter of history (weren't copies of this film freely distributed to schools?). It boggles my mind that this has not occurred to him, assuming one can take his stated motives at face value.
— Robert
We can't argue with you, Robert. Schindler's List has been shown twice on broadcast television with limited or no commercial interruption, and, of all of Spielberg's films, it is arguably his most important, not just for the sake of cinema, but for the sake of history. Therefore, now that the three million DVD player mark that Spielberg was reportedly waiting for has been reached, it makes little sense for him to keep this film away from DVD any longer. If Spielberg is consistent in his previous statements about both Schindler's List and DVD, it shouldn't be hard to predict that a new disc will arrive in the first half of next year.
I have more of an industry question for you as opposed to a DVD question. Why is Hollywood still using a raw dollar figure to rank the top grossing movies of all time at the box-office? For a while the industry has been using the $100 million mark as a mark of a blockbuster film. But with the price of movies these days ($8.00 in my area) it seems like this $100 million mark is kind of outdated. And when a movie like
The Sixth Sense passes Raiders of the Lost Ark in total revenue, it makes me wonder. In five years, even movies that do less in terms of attendance will be in the top ten of all-time revenue.
— Louis
Hollywood (and the normally obedient Hollywood press) prefers to use a non-adjusted box-office list for two reasons — because it allows current movies to appear more successful than they actually are against their predecessors, and because it's just a lot easier to refer to a dollar-total rather than adjusting the numbers for inflation. As for us, the few times we've seen adjusted-gross box-office lists we've always been surprised by what films have historically done well in terms of attendance rather than ever-inflating ticket prices. So we went on an AltaVista hunt last night and found a pretty good source to use as an adjusted-gross top-30 list, which we've added to our Stat Sheet as a permanent feature. To us, what's most fun about adjusted-gross lists are how they deflate the current top-grossers. James Cameron may be the alpha-male of the wolf-pack with Titanic's $600 million in receipts, but on the adjusted list the film slips to number three, which is behind Star Wars rather than in front of it, as it is on the non-adjusted list. The Phantom Menace did gain more viewers than Return of the Jedi this year, but you Jar-Jar haters out there might be happy to know that it actually fell short of The Empire Strike Back in receipts, and that's despite the fact that George Lucas made sure that Menace would remain on the biggest screens in America for two months straight — a deal he never could have struck for Empire back in 1980.
E.T. remains in the top ten on the adjusted list, but it is joined by The Sound of Music, and Dr. Zhivago, and The Ten Commandments — which all did Titanic-sized business in their day. The number-one spot belongs to Gone With The Wind, and with an adjusted gross of $863 million it may not be replaced for some time yet, particularly when we consider that The Sixth Sense will pass a mere $250 million this weekend, even though that's considered phenomenal business nowadays. Yet every film on the adjusted top-30 has done at least $300 million in terms of current-day ticket sales, including our beloved Raiders, which lands in 17th place with a $381 million total. Anybody who thinks more people have gone to see The Sixth Sense this summer than Raiders back in 1981 are misinformed or flat-out deluding themselves (and since we have been reporting the huge figures for The Sixth Sense and The Phantom Menace this past summer, we're probably guilty for some of that misinformation, so we'll try to keep things in context from now on).
But there's still a down-side, because while a scant nine films on the non-adjusted top-30 are now available on DVD, only seven from the adjusted top-30 have gone digital. The upcoming Disney DVD releases will increase that number somewhat, but only for the 60 days that they're on the street. After that, it mostly will be up to Lusasfilm, Amblin, and Disney to rectify matters — 16 of the adjusted top-30 films are controlled by George Lucas, Steven Spielberg, and Michael Eisner, and nobody else but them.
I recently bought a Proscan DVD player that happened to have Divx. I would like to know if there is a way to view Divx movies, since I can't register the player.
— J.S.
Um, after sending your letter over to the legal division of The DVD Journal, our answer is (cough, cough) no comment. The only thing we can tell you is that Divx stopped registering new users on June 16 of this year. You might use the power of the Internet to find possible answers to your quest, as long as you leave us out of it (our lawyers are very nervous people). The only thing we'd like to know is why you want to watch pan-and-scan movies on DVD.
Top of the Pops: Here's the top-selling DVDs last week from our friends at
Reel.com (no adjustment for inflation necessary here). Click the links to read our reviews of these discs:
The American President
How the Grinch Stole Christmas
See ya tomorrow.
— Ed.
---
Tuesday, 19 October 1999
---

Brits mad as hell!: What, you think you hate Fox and their wishy-washy approach to DVD? We've all been let down by the lack of features or anamorphic transfers on most of their discs, but you'd have to go a long way to match the total frustration in Great Britain, where Fox has only released two DVD titles, and both selling as high as £30.00 each (about $48.00 U.S.). The standard pricing for most Region 2 DVDs in the UK is between £16.00 - £20.00, prompting a wide array of online retailers and independent news websites to launch a Fox boycott last week — and they aren't kidding around. "There will be no reporting of Fox DVD releases, with the exception of any movement on the pricing front, on any of our sites," writes Mark Hughes, webmaster at DVD News UK, "and in addition to this, the retailers supporting the action have also taken the brave move of removing Titanic from sale." (Fox has the international distribution rights to Titanic, and recently released a DVD edition in Region 2.) Five online retailers and 11 news sites have joined the no-sell, no-review action, and those numbers could grow.
And that little critter there, just up and to the right, is the new "Boycott Fox DVD" logo, which is proliferating across the UK DVD websites. Look familiar? Yep — that's a "Fight Divx" knock-off, and a pretty good one too. And when we consider that negative publicity on the Web had a great deal to do with Divx's untimely demise earlier this year, we wouldn't want to be in Fox's shoes. If they have any doubt about it, they might want to give Circuit City a call — those little black-and-white logos can pack a whallop.

On the Street: The Bond moratorium has grown smaller as of this morning, with MGM streeting the first set of their Bond DVD series — seven films in all. Other cool items on the street include the special edition of The Wizard of Oz and Universal's latest in their "Classic Monster Series," The Bride of Frankenstein. Here's this morning's notable street discs, courtesy of Reel.com:
Ayn Rand: A Sense of Life
Beverly Hills Ninja
The Bride of Frankenstein: Classic Monster Collection
The Cassandra Crossing
The City of Lost Children
Clueless
Election
eXistenZ
Ferris Bueller's Day Off
Fitzcarraldo
For Your Eyes Only: Special Edition
Free Money
Friday the 13th
Friday the 13th, Part 2
Goldeneye: Special Edition
Goldfinger: Special Edition
Habit
Halloween: H20
The Inheritors
Iron Monkey II
The James Bond Collection (7-DVD Set)
The Last Days
Liar Liar: Special Edition
Life: Special Edition
Live and Let Die: Special Edition
Rawhead Rex
SLC Punk!: Special Edition
Thunderball: Special Edition
Tomorrow Never Dies: Special Edition
Two-Lane Blacktop
The Wizard of Oz: Special Edition
Box-office slug-fest: North American box-office estimates over the weekend had placed Paramount's Double Jeopardy at the top spot for the fourth weekend in a row, but final figures released yesterday revealed that Fox's Fight Club actually earned bragging rights with an $11 million gross. Double Jeopardy wound up in second place with $10.2 million, while Universal's The Story of Us took third with $9.7 million.
Quotable: "Someone needs to donate a new sound system."
— An unidentified guest at last Thursday's screening
of Three Kings at the White House theater.
Maybe Hillary can go back to trading cattle futures.
— Ed.
---
Monday, 18 October 1999
---

Disc of the Week: Mary Shelly's Frankenstein is a monumental novel from the Gothic/Romantic period, but the 1931 Frankenstein has little to do with it and more to do with the many simplified stage plays that followed. Yet, with little more than a potboiler script and stock actors to go on, director James Whale made Frankenstein an important film by taking advantage of every moment. Given the opportunity to situate his camera somewhere, he consistently finds a better spot for it. Presented with a straightforward sequence, he finds a way to shoot it in a more unusual manner. From the opening shot (panning across the faces of mourners around an open grave and coming to rest on a statue of the Grim Reaper), to the introduction of the monster (who said that Godard invented the jump-cut?), to the final flight of the monster across the countryside and the burning of the windmill, Frankenstein is a bag of expressionist treats that easily makes up for whatever deficiencies are inherent in the production itself. Along with legendary makeup-artist Jack Pierce, Whale is also responsible for the iconic success of the monster, a figure as easily recognizable in 20th-century American pop-culture as Elvis Presley or Marilyn Monroe or a bottle of Coca-Cola. Boris Karloff, as the monster, delivers a sturdy performance, but much of the sympathy that the creature generates is a direct result of the heavy-lidded eyes and twisted, half-open mouth, which offer up an unexpected level of expression, asking the viewer to infer the near-human innocence within the monstrosity. Universal's DVD edition of Frankenstein, part of their "Classic Monster Collection," is a first-class item. The entire 71-minute version of the film is on board, and the print is very acceptable, with some damage and flecking, but also with very good low-contrast detail. The transfer is in the original 1.33:1 aspect ratio and is artifact free. Audio is likewise solid, in the original mono and with very little ambient noise. Voices are clear and easily understood. Universal deserves high praise for filling this disc with a great deal of value-added content, including the 45-minute documentary How Hollywood Made a Monster (which examines Mary Shelly's Frankenstein, several stage productions, and the Hollywood incarnation), a commentary track by film historian Rudy Behlmer, a series of on-set stills with audio clips from the film, the Universal comic short "Boo!" with footage from Frankenstein and Nosferatu, trailers from 1938 and 1951, production notes, and cast and crew bios and filmographies. Frankenstein is a collectable DVD that earns the title "collectable."
"Shawshank" conspiracy watch: Is our Shawshank conspiracy true? You got us, we just like conspiracy theories, and we're convinced (or at least tempted to think) that Warner has canceled their release of The Shawshank Redemption on DVD because they are waiting for The Green Mile to reach home video, since both films are based on Stephen King stories and directed by Frank Darabont. And now, for some reason, Warner has kicked up the theatrical release date of The Green Mile from Dec. 17 to Dec. 10. Maybe they want all of us to get that Shawshank disc even sooner. Then again, maybe not.

Box Office: Continuing to surprise everybody, Paramount's Double Jeopardy held the top-spot at the North American box office for the fourth week in a row, beating out Universal's Michelle Pfeiffer/Bruce Willis feature The Story of Us by just $100,000, and giving Fox's much-ballyhooed Fight Club a bloody nose on its debut weekend — the Brad Pitt/Edward Norton vehicle entered theaters with high hopes of coming home with a title, but only took third place (both Universal and Fox are disputing the estimates, which will be finalized late Monday). Warner's Three Kings and DreamWorks' American Beauty — both regarded as early Oscar contenders — remained in the top five, each passing the $40 million mark with solid receipts. Meanwhile, Sony's Random Hearts, starring Harrison Ford and Kristen Scott Thomas, took a nosedive, falling from second place last week to sixth and losing 56% of its audience in the process. But this week's most unusual flick, the Biblical-based The Omega Code starring Michael York and Casper Van Dien, managed to round out the top ten with nearly $2.4 million, despite a limited release, independent distribution, and virtually no coverage from the mainstream media. It also had the highest per-screen revenue of the bunch. Here's the top-grossing films at American theaters from last weekend:
Double Jeopardy (Paramount)
$10,500,000 ($80,609,000 to date)
The Story of Us (Universal)
$10,400,000 ($10,400,000 to date)
Fight Club (Fox)
$10,300,000 ($10,300,000 to date)
Three Kings (Warner)
$7,300,000 ($43,700,000 to date)
American Beauty (DreamWorks)
$6,800,000 ($41,350,000 to date)
Random Hearts (Sony)
$5,800,000 ($22,700,000 to date)
Superstar (Paramount)
$5,725,000 ($16,624,000 to date)
The Sixth Sense (Buena Vista)
$5,200,000 ($249,900,000 to date)
Blue Streak (Sony)
$3,800,000 ($60,600,000 to date)
The Omega Code (Providence)
$2,389,193 ($2,389,193 to date)
Drive Me Crazy (Fox)
$2,300,000 ($15,000,000 to date)
The Adventures of Elmo in Grouchland (Sony)
$1,300,000 ($8,300,000 to date)

Schindler's list found: In one of the most unusual discoveries in recent memory, several personal effects and papers of Oskar Schindler were uncovered last week in Germany, including the original list of 1,200 Jews that he saved from the Nazi gas chambers, as portrayed in Steven Spielberg's Oscar-winning Schindler's List (which isn't on DVD yet, so please don't write us and ask about it — you'll only get in the way of people writing us to ask when Star Wars will be released). Is the Schindler discovery just another round of forged Hitler diaries? Not according to Uwe Vorkoetter, editor of the Stuttgarter Zeitung newspaper, which now has the papers in its possession. "There is absolutely no doubt that these documents are genuine," Vorkoetter told Reuters. The list, believed to be Schindler's original copy, was found in a briefcase that had been in a German attic. Also in the case were hundreds of personal letters and documents, and even photographs of some of those who Schindler saved (Moshe Bejski, a well-known Schindler survivor and a former Israeli Supreme Court judge, positively identified many of the people in the photos for the newspaper). Vorkoetter said that he wants to contact Spielberg as soon as possible. "We've asked for an interview," he told Reuters," but it isn't that easy to get in touch with a person like Spielberg." In the meantime, the paper plans to publish many of the documents.
On the Board: A new full review has been posted for Frankenstein: Classic Monster Collection, and can be found on our Full Reviews index. New quick reviews this week include Yojimbo: The Criterion Collection, The Underneath, Insomnia: The Criterion Collection, Twin Dragons, Mars: The Red Planet, and Shock Corridor: The Criterion Collection, and can be accessed under the New Reviews menu here on the main page.
We'll be back tomorrow with news on this week's street discs.
— Ed.
---
Friday, 15 October 1999
Weekend Dispatch
---
Who can you trust?: DVD Journal reader Bill Maddocks sent us an interesting question regarding an item in yesterday's news update:
I have a question about
The Usual Suspects. Why is this listed at $54.76 on eBay when they are re-releasing this title in December? Is there something special about the older version? Or is this purely a "collector's item" thing?
— Bill
The short answer to your question, Bill, is that somebody bid $54.76 for a PolyGram DVD edition of The Usual Suspects on eBay because they think it's worth $54.76. Do we agree? At one time we might have, but now we don't. For those of you joining the party late, PolyGram originally had the home-video rights to The Usual Suspects, but in a complicated three-way deal between PolyGram, Universal, and MGM earlier this year, MGM wound up with the rights to the majority of the PolyGram library, deep-sixing all of the released PolyGram DVDs, including Suspects. For the better part of '99, Suspects has been an MIA disc, but MGM recently announced that their own edition would hit the streets on Dec. 7.
The PolyGram disc stood a chance of becoming a genuine collectors' item before MGM released their specs, since the original edition has a great commentary track by director Bryan Singer and writer Christopher McQuarrie and there was some question as to if this track would resurface on any future edition. But MGM's forthcoming disc will have the track, making the overall value of any Usual Suspects disc on eBay around $15 — which is what it currently pre-orders for at
Reel.com and other online retailers.
eBay is a great place to hang out, but lots of folks who don't do their homework can get burned in the process. We note for the record that the seller who was offering Suspects in that particular auction was claiming that the new MGM release would not have the commentary track on board. A quick check at any number of online sources reveals the opposite to be the case, but eBay cannot possibly monitor all sellers' claims on their site (nor are they legally bound to do so), leaving the buyer responsible for his or her own bids, however uninformed they may be. We also note that last month somebody apparently paid $152.50 for an "out-of-print" disc of D.W. Griffith's Intolerance, despite the fact that the disc is still very much available all over the Web for a fraction of that closing price.
But here's something far more inexplicable. The upcoming MGM release of The Usual Suspects is virtually identical to the PolyGram edition, but, like the PolyGram disc, it's also in Dolby Surround 2.0, and our understanding is that Suspects was released theatrically with discrete 5.1 audio. We were hoping that MGM would correct this problem with their new release, but such doesn't appear to be the case, leaving a final, enduring mystery behind the film — what did Keyser Soze do with that 5.1 track?

Commentary Clip: "I think being cast as Ensign Pulver (in Mister Roberts) was one of the biggest breaks of my life, professionally. There's no question about that. And as sometimes happens, although it sounds like a made-up Hollywood story, it's totally true — it was a fluke. When I first came to Columbia, to do a picture with Judy Holliday, at the time I tested for that, it was called It Should Happen to You. George Cukor directed it. At the same time they asked me, for some unknown reason, to test for a part in The Long Gray Line that was going to be played by Tyrone Power, according to John Ford, who was the director. And that's exactly the way it ended up — and the way it should have ended up, may I say. But at any rate, I did, and the part aged from like 30 or 28 or something like that — which was older than I was — up to about 79 or 80 years old I remember, and they tested me only as the old man. Ford wouldn't even look at the test. He says 'I don't want an unknown. I'm using Tyrone Power.' And even Ford was able to tell [Columbia Pictures founder] Harry Cohn what the hell he was going to do, and he's probably the only one who could... maybe Billy Wilder. Anyway, so he never looked at it until one day it was tacked on to the end of the rushes while he was doing the film. I had already finished my first film with Judy. Maurice Max, who was a friend of mine and an assistant editor at the studio, was in charge of running the dailies for all of the different films, and for some reason or other he tacked my test on at the end of Tyrone Power's dailies. And Ford sat there, and when the lights came up he turned to Jerry Wald, who was second-in-command at that time, and said 'Who the hell was that?' And Jerry Wald said 'Oh that's a kid, Jack Lemmon, that we got. He just finished a film with Judy Holliday. He's under contract here.' Now the next film Ford was going to do was Mister Roberts, and for some odd reason — who knows what he saw, I have no idea, but here I was playing an 80-year-old Irishman, hardly Ensign Pulver — he stood up and said 'I'll tell ya somethin' — he's a lousy old man, but I think he'd be a very good Pulver.' When Maurice Max told me that I thought I was going to have a heart-attack.
"I walked over to the set where (Ford) was shooting, finishing up the picture with Tyrone Power, just to see what was going on and to get a look at him because I didn't know him and I didn't know what he looked like exactly. And I walked on, and an old grip — in a pair of sneakers and baggy pants and a sort of ripped-up jacket, a hat pulled down and a patch over one eye, and chewing on a handkerchief — walked up to me. He says 'I understand that you want to play Pulver.' And I said, 'Well, I don't know who told you, but they're sure right.' And he said 'Do you really want to be Pulver?' and I said 'Yeah.' And he said 'Spit in your hand.' And I said 'What?' And he said 'It's an Irish custom. Spit in your hand.' And he then spit in his hand, and stuck it out. So I pretended, I went ptooie as if I had spit, and shook hands with him. And he said 'You're Pulver, and I'm Ford.' "
— Jack Lemmon, Mister Roberts: Premiere Collection
Coming Attractions: New reviews are on the way, including Frankenstein: Classic Monster Collection, Yojimbo: The Criterion Collection, and others. Check back on Monday for all the latest.
Go enjoy the weekend. We'll see ya soon.
— Ed.
---
Thursday, 14 October 1999
---

"Missing in Action" Flick of the Week: TV film critic Roger Ebert is spinning a revolving wheel of colorful guest critics to partner his increasingly silly opinions on Roger Ebert & the Movies this season. However, back in the late 1960s, Ebert was at his absolute silliest, and his most colorful, most unlikely partner was none other than crazy tittie-flick maven Russ Meyer. It was alongside Meyer that Ebert made his one official contribution to film content, credited as screenwriter for Meyer's classic 1969 Beyond the Valley of the Dolls. Inspired by the torpid melodrama of Jacqueline Susann's popular novel Valley of the Dolls and the subsequent film, Meyer and Ebert conjured a laser-sharp send-up of the old young-girls-corrupted- by-the-horrors- of-show-biz tale. The young girls here are Kelly, Casey, and Petra (all played by Playboy playmates), a go-go rock trio who ditch their small town gigs playing senior proms and split for L.A. Within days the group is re-christened The Carrie Nations, and their whirlwind ride to fame takes them through pit stops of drugs, debauchery, and flat-out grooviness. Meyer, it is said, put the "tit" in titillating, and he and Ebert throw every decadent wrench in the monkeyworks: porn stars, Nazis, abortions, prizefighters, transvestites, suicide, lesbians, peyote trips, beheadings, you name it. But they don't rest on their filthy laurels — Beyond the Valley of the Dolls is lively, funny, and masterfully observant of film clichés. Meyer had the smarts to direct his inexperienced cast to play it straight, and the result is fully committed life-or-death wackiness and purely deranged entertainment. Nowhere else will you hear sincere delivery of such dialogue as "'Ere this night does wane, you will drink the black sperm of my vengeance!"
Beyond the Valley of the Dolls is crying out for a special edition DVD (Criterion, are you listening?). Not only has its 2.35:1 aspect ratio been cruelly smushed and chopped on VHS, but there's a wealth of extra material out there to augment this ruthlessly hip and energetic mess of exploitation. Meyer shot X- and R-rated versions of the film's racier scenes (he submitted the R-version, but got an X-rating anyway), so there's plenty of deleted footage to include. A commentary by Laserdisc and DVD fan Ebert would put the finishing touch on the package. For now, if you want to see the unrated version on tape you'll have to buy it as an import, which some online retailers sell for as much as $80. And it's probably still pan-and-scan.
The conspiracy grows: Thanks to DVD Journal reader Dan Revill for joining our Shawshank conspiracy theory with a salient point: It seems that every time that Shawshank has been announced for DVD release by Warner, a 16x9-enhanced transfer has not been part of the feature-set. "Most of Warner's DVDs are anamorphic," Dan notes, "so that leaves me wondering why they wouldn't do it with Shawshank from the beginning." It's very unlikely that the powers-that-be at the WB smacked their heads last week, said "Hey, this ain't 16x9!" and nixed the disc, but if our pet theory is correct and Warner is waiting for The Green Mile to arrive on home video before streeting Shawshank, the many months in between may give them time to consider a new anamorphic transfer.

On the Block: Here's the highest current prices of rare DVDs from online auctions at eBay :
Little Shop of Horrors — $77.00
The Killer: The Criterion Collection — $77.00
Platoon — $70.00
This is Spinal Tap: The Criterion Collection — $61.00
The Usual Suspects — $54.76
The 400 Blows: The Criterion Collection — $52.00
Salo: The Criterion Collection — $46.00
From Russia With Love — $35.00
Priscilla, Queen of the Desert — $31.00
A Hard Day's Night — $30.00
We couldn't get into eBay's closed-auctions server last night so most of these auctions are current, and prices are certain to be much higher before they're done. And the fact that MPI Home Video's A Hard Day's Night is now out-of-print was news to us, but we checked it out and it's true — that one's now MIA.
— Ed.
---
Wednesday, 13 October 1999
---

"The Iron Giant" looms larger: Warner's critically acclaimed The Iron Giant, due to arrive on DVD on Nov. 23, cleaned up the nominations for this year's Annie Awards (held by the International Animated Film Society), gaining 15 nods on Monday in such categories as best picture, best directing, best musical achievement, best special effects, best writing, and many others. Coming in a distant second was Disney's Tarzan (due out on disc sometime next year) with nods in ten categories, while DreamWorks' The Prince of Egypt only earned four. So does anybody want to explain why The Iron Giant only earned $22.2 million at last summer's box office?
The 27th annual Annie Awards will be held on Nov. 6 in Glendale, Calif. We'll keep ya posted.
The Lion regains some pride: After three years of financial losses that resulted in a massive restructuring earlier this year, MGM turned the corner yesterday by posting a profit for the third quarter of '99. It isn't a lot (just $10.3 million, enough to cover one A-list actor's salary or pay for a few script deals), but The Lion is looking up. "To say we are elated here at MGM would be an understatement," Alex Yemenidjian, MGM's chairman, noted in a press teleconference yesterday. The many changes that have occurred over the past several months at MGM included moving Yemenidjian from his top-dog position at the MGM Grand in Vegas and putting him in charge of all Lion operations, buying back the home-video distribution rights to MGM films from Warner (who had controlled all MGM home-video product for the past decade), and spinning the United Artists label off into an independent specialty studio designed to compete with such indie houses as Fox's Searchlight and Disney's Miramax. Looking to the future, The Lion is planning to launch a 24-hour MGM movie channel on cable/satellite in the next year or two, in addition to increasing revenue from theatrical releases, home video, and even DVD — a format they have earmarked for growth, swelling from 70 discs released this year to an impressive 130 during Y2K.

Mailbag: It's time to clean out some of the reader mail here at The DVD Journal:
How many times will you watch a documentary or a trailer? Maybe twice? And sexy menus are nice, but do they really enhance the enjoyment of the movie itself? My point? The ridiculous deluge of DVD reviews that read like this: "The transfer was great, but I can't recommend buying the DVD because of the inexcusable lack of extras" — your recent review of
Who Framed Roger Rabbit is what immediately comes to mind. Despite its lack of an anamorphic transfer (which I do believe in, though I can't take advantage of it) I was stunned by its sharpness, color, and sound, as I am with almost every DVD. Perhaps the trailers are also just a sticking point with me, as all the trailers I've received with my movies have been bad with a capital lame. The transfers usually look painful next to the movies themselves, but the content of the trailers is usually an insult to the movie — a second-rate spin-job obviously concocted by a marketing department to maximize attendance.
And another oft-missed overrated extra: the commentary track. I have yet to hear one that gave me any insight into the actual creative process of the movie itself. They usually detract from the suspension-of-disbelief and tell you things you should never know. And oh how people can ramble aimlessly. Has anyone ever prepared comments for these things? I would give my right-something to hear "I was particularly inspired by Welles' claustrophobic sense of framing," instead of "She looks tired because she drained the town's entire tequila supply the night before."
Perhaps the only extras I'll concede are the outtakes and documentaries. But again, how many times am I going to watch those? At most twice. It's nice that they're there, but without them, is the DVD truly not worth buying?
— Dwight
Is a DVD more likely to be worth your money if it has extras? Say what you will, we say "Hell yes!" We're not advocating that everybody go out and buy every feature-laden DVD on the street, because if the film is crap (e.g., 1941: Collector's Edition), the whole enchilada probably isn't worth your time. And yes, there are some movie-only discs that are worth having for the sake of the film itself. But in regards to Who Framed Roger Rabbit?, we advised our readers to consider a rental rather than a purchase simply because if any film was begging for special-edition content, Roger Rabbit is it. To us, asking for extras on Roger Rabbit isn't like asking for goodies on The Day of the Jackal — the latter is a fine espionage thriller from 1973, but fairly straightforward and in little need of embellishment. Roger Rabbit, on the other hand, is a technical masterpiece and an animation landmark, and the lack of any supplements from Disney on the disc is a disappointment. We also note for the record that many of our readers have written us to complain about at least one deleted scatological moment from the original film on the Mouse's new transfer (the Crusader column at DVDFile.com and Moriarity at Ain't It Cool News have both covered this topic), in addition to the fact that no trailer is included on the disc when one was originally promised. We got the following image straight from the Magic Kingdom, but the actual DVD doesn't have the trailer selection.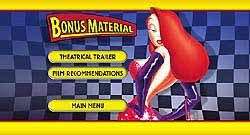 We're hoping that a future special-edition release of Roger Rabbit could correct these problems. Fortunately, The Mouse House has been warming to the idea of special editions lately.
In regards to DVDs as a whole, beyond the quality of the film and the transfer — which come first and foremost — we base our reviews and recommendations on two other factors: price and extras. A $30 street price for a Universal Collector's Edition seems a bit steep when Warner and New Line release equally good discs for around $20, but in some cases the additional content is worth the premium (Out of Sight: Collector's Edition being a good example), whereas a film-only disc for $30 seems beyond the pale, even Roger Rabbit. However, we know that for many folks, the thirty bucks (or cheaper online) is worth it just to have the film. It's all just consumer preference, and we want you to vote with your dollars like everybody else. As for us, we listen to the commentaries (even the lame ones) and enjoy the behind-the-scenes stuff — it's a great feeling to grab a new DVD we've recently enjoyed and realize that we're not done with it yet.
I am a die-hard Laserdisc fan and am saddened by its seemingly inevitable demise. However, there are still a few movies that are either being released to both DVD and LD, or are being released to DVD for the first time but have been available on LD for a while. Since I am not only trying to support the LD format, but I am also a fan of getting the best product that I can, it would be nice to have a place to go where the LD and DVD formats of the same movie are compared and contrasted. For example,
The Doors: Special Edition has a ton of extra stuff on it, while the Doors DVD is lackluster in comparison. This would be something nice to see when making a purchasing decision. But I have not been able to find anything like this on the Web.
— Dustin
Neither have we, Dustin, and in fact we'd love to see some sort of website with special-edition face-offs between LD, DVD, and even VHS (even the special-edition of Terminator 2 was released on VHS after all, and there's no DVD in sight). Fortunately for Criterion fans, Criterion has announced that they are constructing a comprehensive guide to all of their Laserdisc releases — current and out-of-print — on their website (www.criterionco.com), but there are still several special editions from the major studios that are difficult to research on the Internet. If you think this sounds like we aren't willing to take up the task, you're right (even though we are LD fans). We put this one to our readers: if you know of a comprehensive LD/DVD website, or are thinking of starting one yourself, let us know. We'd visit regularly.
Top of the Pops: Here's the top-selling DVDs last week from our friends at
Reel.com. Click the links to read our reviews of these discs:
The American President
Later.
— Ed.
---
Tuesday, 12 October 1999
---

A "Shawshank" conspiracy?: DVD Journal reader and digital die-hard Gary Annett dropped us this note last night (clearly he'd had a few beforehand for the sake of perspicacity):
After much consideration (and a couple of libations), I think I have the reason as to why Warner has pulled
The Shawshank Redemption again. This may not apply to their previous decisions to reschedule, but the lack of a new street date brought this to mind:
The anticipation about the upcoming Warner release of The Green Mile is shifting into high gear, and the buzzwords "Stephen King," "Frank Darabont," and "Oscar" are already in the air. It would stand to reason that Shawshank might street just before or in conjunction with the DVD edition of The Green Mile. I even see a boxed set.
Well, back to the mixed drinks.... Anybody want anything?
— Gary
Yeah, Gary, we'd like a drink or two. In fact, after the latest Shawshank lock-up, you might as well mix us up a cocktail of grain alcohol and Gatorade. We'd even drink it from an old canning jar on your front porch — we're that fed up (and to make it once and for all, we note that our sponsor Reel.com has now pulled Shawshank from their release calendar). But we're going to go out on a limb with you — we think you hit this nail on the head. The Green Mile, like Shawshank, is a prison film written by Stephen King and directed by Frank Darabont, and it's a Castle Rock/Warner production, due to reach theaters on Dec. 17. In the world of home video, timing is everything, and what better way to get consumers to buy both DVDs than to release them at the same time? We're all just a bunch of suckers!
Man, there's nothing like a juicy conspiracy theory to get the week going....

In the Works: In the meantime, let's get a look at some DVDs that might be paroled before the next century. Here's some new disc announcements, courtesy of Image Entertainment:
Columbia TriStar has been knocking our socks off lately with some great back-catalog releases, the latest one being a 16x9-enhanced Easy Rider: Special Edition (Dec. 7), which will include a commentary by the always-entertaining Dennis Hopper along with a "making-of" documentary. Other CTHV discs in the works include Bizet's Carmen: The Movie with Placido Domingo (Dec. 7), the Nixonian comedy Dick: Special Edition (Dec. 14), The Last Detail with Jack Nicholson and Randy Quaid (Dec. 14), and School of Flesh (Dec. 7).
Paramount is on the board with a special edition of The General's Daughter starring John Travolta and Madeleine Stowe, which will feature a 16x9-enhanced transfer, a 20-minute featurette, two trailers, and four deleted scenes, including an alternate ending and (we quote) "two romantically charged scenes between Travolta and Stowe" (zounds!). Also look for new discs of the 1988 The Presidio with Sean Connery and Mark Harmon, and Billy Wilder's 1953 prison-camp favorite Stalag 17. All are due on Dec. 14.
Warner has the Hugh Grant comedy Mickey Blue Eyes on the way (Dec. 28), along with several discs from their new "30 Years Of National Geographic" series, including such titles as Nature's Fury, The Photographers, Secrets of the Titanic, Surviving Everest, The Battle for Midway, and Tigers in the Snow. Expect all of them to arrive during December and January, and with maps, still galleries, and featurettes on board as extra content.
Artisan has gone into the vault and come out with the 1978 The Boys From Brazil (Dec. 14), the classic Nazi-conspiracy flick starring Gregory Peck, Laurence Olivier, and James Mason. Also look for Illuminata: Special Edition starring John Turturro and Christopher Walken (Dec. 14), and with a commentary by Turturro.
Disney's late '99 releases will include Kevin Williamson's Teaching Mrs. Tingle (Dec. 21), and this one's supposed to be 16x9-enhanced — a Mouse rarity. Also expect Spike Lee's Summer Of Sam (Dec. 21), Jackie Chan and Michelle Yeoh in Supercop 2 (Dec. 21), the critics' favorite Farewell My Concubine (Dec. 14), Rogue Trader with Ewan McGregor (Dec. 14), and The Very Thought Of You (Dec. 14).
New Line has announced new discs for Detroit Rock City: Special Edition, National Lampoon's Loaded Weapon, Pump Up The Volume, and Surviving The Game. All are due on Dec. 21.
Just one disc from Fox today — the 1993 Rising Sun starring Sean Connery and Wesley Snipes (Nov. 23), which will not be 16x9-enhanced and will only include a trailer. Did we mention this one's from Fox?
Finally, Delta/LaserLight has gotten our hopes up with a Cary Grant double-feature of His Girl Friday and a documentary entitled "Cary Grant On Film" on the same disc. His Girl Friday has been one of our biggest MIA DVDs, primarily because the many VHS editions out there are of poor quality. The new disc is due on Oct. 26 and the MSRP is $15, but online pre-orders are currently running around nine bucks. If LaserLight's pleasant transfer of Hitchcock's The 39 Steps is anything to go by, this one could be a bargain-basement gem.

On the Street: Street Tuesday this week is a low-key one with few notable releases on the shelves, but some of you DVD fans might want to check out the new Army of Darkness limited edition set, Ken Russell's Lair of the White Worm, and a new Marx Brothers collection. Here's this morning's street discs, courtesy of Reel.com:
Antonia's Line
Army of Darkness (Limited Edition 2-DVD Set)
Bound and Gagged: A Love Story
Brother, Can You Spare a Dime?
The Emperor's Shadow
Cream: Farewell Concert
Goodbye Lover
Grateful Dead: Downhill From Here
The Guardian
The Hound of the Baskervilles
The Ipcress File
Labyrinth
The Lair of the White Worm
Lolita (1997)
Melvin and Howard
The Marx Brothers Collection (3 DVD Set)
On Any Sunday
Operation Delta Force 2
The Phantom of the Opera
The Rage: Carrie 2: Special Edition
The Robocop Box Set (3 DVD Set)
The Soft Skin
The Stay Awake
They Shoot Horses, Don't They?
Warlock III: The End of Innocence
"South Park" meets "Python": Monty Python and South Park fans can look forward to a short collaboration between the two enterprises, as Trey Parker and Matt Stone recently received permission from the Pythons to re-work their famous "Dead Parrot Sketch" with South Park's prepubescent characters. The new SP short — entitled "The Dead Friend Sketch" (you can guess which young'un plays the dead friend) — will air as part of a 30th Anniversary Python TV special on the BBC, and it will likely arrive on home video on these shores not long thereafter. Python's original "Dead Parrot" sketch is now available on DVD as part of Arts & Entertainment's classic Python television collection.
— Ed.
---
Monday, 11 October 1999
---
"Shawshank" delayed again: Do we want to continue talking about The Shawshank Redemption and a possible DVD release from Warner? No, we don't — we'd just like to get the disc, review it, and tuck it in the library, thank you very much. But the on-again, off-again release of Shawshank inexplicably continues. After announcing street dates this year for April 6, Oct. 26, and Dec. 21 (in addition to release dates way back in '98), Warner has again postponed the disc, and this time there's no new street date. DVDFile.com is also reporting that Warner has canceled all retailers' orders, which obviously means no Shawshank DVD until Y2K at the earliest. Why has Warner nixed the disc again? We wish we could tell you, but the WB is quiet on the matter.

Disc of the Week: James Dean died in a horrific car accident only one month before Rebel Without a Cause was released in 1955, and while his other starring roles in East of Eden and Giant may be as good as his work here, it is this film for which the iconic actor will always be remembered. Dean stars as disaffected teen Jim Stark, who is quick to temper and has trouble relating to others — traits that have caused his parents to move from town to town, leaving Jim's history of juvenile delinquency in their wake. Starting a new school year, Jim wants to create a fresh start, but his arrogant manner immediately catches the attention of a thrill-seeking gang who try to bully him before challenging him to a game of "chicken" with stolen cars. It is a challenge that Jim cannot ignore, despite its inevitably disastrous results. While a provocative film for the times (the first to really examine youthful alienation in an upper-middle-class setting), Rebel Without a Cause skims along on a threadbare plot — in fact, you could probably write the whole story on the back of a matchbook. But Nicolas Ray's direction keeps the many conflicts front-and-center, and Dean completely outclasses his co-stars with his "method" style, fully investing himself in his character while those who surround him seem to be only reading their lines in a dramatic way. It's not hard to see why Dean became such a legend on the basis of only three films — much of his turbulent performance here is similar to that of the young Marlon Brando, another actor who was hanging around the Warner lot at the same time. The 16x9-enhanced transfer on Warner's new DVD is solid, sourced from a very attractive print, and the audio profits from new DD 5.1 mix. The many extras include a short documentary with outtakes and screen tests, trailers for Rebel, Giant and East of Eden, cast and crew notes, and three TV spots from "Warner Brothers Presents" featuring interview footage with co-star Natalie Wood and Dean himself, in the famous, spooky interview made just months before his death where he encourages kids not to speed because "The life you save may be mine."

Box Office: For the third weekend in a row Paramount's Double Jeopardy held the top spot at U.S. box-office, pulling $13.5 million and beating out newcomer Random Hearts, starring Harrison Ford and Kristin Scott Thomas, which drew $13.1 million. Warner's Three Kings continues to build an audience with $11.7 million, helped in part by good word-of-mouth and numerous critical accolades. Likely Oscar-contender American Beauty from DreamWorks held steady as well, with $9.2 million in receipts. Meanwhile, Buena Vista's The Sixth Sense isn't done yet — the see-it-twice supernatural thriller has now raked in an overall total of $242.7 million after 10 weekends in release, nudging past Raiders of the Lost Ark on the all-time U.S. box-office list and into 15th place. Here's the top-grossing films at American theaters from last weekend:
Double Jeopardy (Paramount)
$13,550,000 ($65,800,000 to date)
Random Hearts (Sony)
$13,100,000 ($13,100,000 to date)
Three Kings (Warner)
$11,700,000 ($32,400,000 to date)
American Beauty (DreamWorks)
$9,200,000 ($30,800,000 to date)
Superstar (Paramount)
$9,000,000 ($9,000,000 to date)
The Sixth Sense (Buena Vista)
$6,100,000 ($242,700,000 to date)
Blue Streak (Sony)
$5,500,000 ($55,000,000 to date)
Drive Me Crazy (Fox)
$3,700,000 ($11,500,000 to date)
For Love of the Game (Universal)
$2,100,000 ($31,500,000 to date)
The Adventures of Elmo in Grouchland (Sony)
$2,100,000 ($6,100,000 to date)
Mystery, Alaska (Buena Vista)
$1,800,000 ($5,900,000 to date)
Stigmata (MGM/UA)
$1,400,000 ($46,500,000 to date)

Welles redux: Orson Welles fans know that his 1942 The Magnificent Ambersons is Missing in Action on DVD, but it has been MIA in an entirely different regard since the day it was released. After the critical success of his 1941 Citizen Kane (recently released on DVD in Region 4), Welles shot The Magnificent Ambersons and turned his lengthy final cut over to RKO, who chopped an hour out of it while he was on vacation. Perhaps not comfortable with that, the studio then destroyed the excess footage so that the notoriously persnickety Welles couldn't try to restore it. Since then, Ambersons has been regarded as a flawed masterpiece, containing passages of genius, but also awkward at points due to the scissors-heavy editing. But in an interesting twist, the newly revived RKO will produce a new four-hour miniseries of The Magnificent Ambersonswith Welles' original 165-page script. Shooting is expected to begin in the summer of 2000, but will RKO defile Welles' original vision a second time? Not according to producer Gene Kirkwood. "We're not going to want to change a line of the script," he told Variety. "Who wants to mess with an Orson Welles script he wrote right after making Citizen Kane? This is the best spec script in town."
On the Board: A new full review has been posted for The Unbearable Lightness of Being: The Criterion Collection, and can be found on our Full Reviews index. New quick reviews this week include Rebel Without a Cause, M: The Criterion Collection, Office Space, Fishing With John: The Criterion Collection, and Girl on a Motorcycle, and can be accessed under the New Reviews menu here on the main page.
We'll be back tomorrow to let you know about this week's street discs.
— Ed.
---
Friday, 8 October 1999
Weekend Dispatch
---

In the Works: Here's some new disc announcements, courtesy of Image Entertainment:
As we noted yesterday, Warner will street a new DVD of Howard Hawks' 1946 The Big Sleep (Jan. 4 according to Image, but previously announced as Nov. 30), and noir buffs can get happy — both versions of the film (with 18 minutes of disparate footage between them) will be on the disc, along with a documentary that will compare the two editions. Warner is also planning to release this year's critically acclaimed The Iron Giant (Nov. 23), which will include a 22-minute documentary on the animation along with DVD-ROM content (it may also contain a commentary track and deleted scenes by the time it's released). Also look for Wild Wild West: Special Edition (Nov. 30), including a commentary by director Barry Sonnenfeld, five behind-the-scenes documentaries, two music videos, and lots of other features. Other new Warner discs on the way include the 1945 musical Anchors Aweigh (Jan. 4) with Frank Sinatra and Gene Kelly, Francis Ford Coppola's The Outsiders (Nov. 30), the children's classic Black Beauty (Nov. 30), Deep Blue Sea: Special Edition (Dec. 7), Before Sunrise (Nov. 30), Pacific Heights (Nov. 30), and A Cry In The Dark (Nov. 30) with Meryl Streep and Sam Neill ("The dingo ate my..." well, y'know).
Music titles on the way from Warner include the documentary Jimi Hendrix (Nov. 30) with lots of interviews and concert footage, Led Zep's very strange The Song Remains The Same (Nov. 30) (a perfect double feature with This Is Spinal Tap), Natalie Merchant: Live In Concert (Nov. 9), and Tom Petty and The Heartbreakers: High Grass Dogs Live (Nov. 9).
New Line is planning to release new discs of The Besieged: Special Edition (Dec. 21), A Thin Line Between Love and Hate: Special Edition (Nov. 16), Feeling Minnesota (Nov. 16), On Dangerous Ground (Nov. 16), Trial and Error (Nov. 16), and Total Eclipse (Dec. 21).
Street date changes include Ma Vie En Rose, The Way We Were, and Against All Odds, all pushed back to Dec. 14.
Coming Attractions: We have new DVD reviews on the way, including Office Space, Warner's new disc of Rebel Without a Cause, and a trio of Criterion titles. Check back Monday morning for all the latest. Meanwhile, keep those letters coming, and if you haven't done it yet, don't forget to drop by our Monthly Contest Page and take our monthly DVD poll while you're there.

Quotable: "How come nobody's screaming, 'I want my recordable HD-DVD?' We won't get it, no matter how we holler, the geniuses who launched (HDTV) without software support crippled their new baby right from the start. I don't blame the civilians, but am shocked that industry insiders didn't realize the DVD format was obsolete on the day it was born. Or it was all part of their cynical master plan? They sold you Aliens on tape, then laserdisc, and now DVD, in five years maybe they'll sell you the HD-DVD, and three years after that, the Super HD-DVD. They just want to sell you the same stuff over and over again."
— CE journalist Steve Guttenberg, in a
recent column at E-Town.
"I am the only real nice one. Gilliam is one of the most manipulative bastards in that group of utterly manipulative bastards. Michael is a selfish bastard. Jonesy is now shagged out and forgets everything and Graham, as you know, is still dead."
— Eric Idle, discussing his fellow Monty Python
members, in an interview with writer David Morgan.
When asked what was the one thing he would save
from his career, Idle replied "My penis."
— Ed.
---
Thursday, 7 October 1999
---

Lost in the "Matrix": We've had a few readers send us letters in the past several days regarding problems with older DVD players that were seriously messing with Warner's new Matrix DVD, but Warner made it known last week that the disc itself was not defective — instead, some DVD players are in need of firmware upgrades, primarily because of the extensive DVD-ROM content on the disc. Reuters yesterday posted a partial list of incompatible players, as follows:
Sony 7000 series
Samsung 709, 739 and 809 series
Panasonic 110, 120 and 310 series
Emerson DVD2000
Zenith DVD2200 and 2100
All GE DVD players
Toshiba SD-3109
Pioneer DV-500, DV-414, DVL-90 and DVL-700
Yamaha C900
If you have one of these decks you should contact the manufacturer and see if a firmware upgrade is available or visit PCfriendly.com for additional information. In fact, even if you aren't having problems with your Matrix disc (or you're one of the 17 DVD owners in North America who haven't purchased it) but still own one of these players, you probably should contact your manufacturer anyway. With more and more DVD Video/DVD-ROM hybrid discs arriving every month, you'll probably run into a problem sooner or later.
Word on the Street: Thanks to Scott at The Silence of the Lambs Sequel Site for dropping us a line to let us know that the original Hannibal Lecter film, Michael Mann's Manhunter, is currently in development for DVD release at Anchor Bay, who are saying that it should reach the street sometime next year. Thanks also to digital die-hard Joe Barlow (our pal over at Joe Barlow on Film) for proofing our DVD MIA page and finding a recent oversight on our part — a DVD of the noir classic The Big Sleep with Humphrey Bogart and Lauren Bacall is due to arrive from Warner on Nov. 30.

"Missing in Action" Flick of the Week: In the hot-and-cold world of Kevin Costner's movie career, 1999 may be a chilly one if the box office for For Love of the Game is anything to go by (his refusal to promote the film due to post-production disputes with Universal hasn't helped matters either). But after all is said and done, we're still Costner fans, if not fans of all of his films, and for every crap flick he's made (e.g., The Postman), there seems to be two good ones (Dances With Wolves, Bull Durham). The sun probably hasn't set on this boy yet, but one of our favorite Costner flicks is still MIA on DVD — 1985's Fandango, written and directed by Kevin Reynolds, who would later collaborate with (and get fired by) Costner on both Robin Hood: Prince of Thieves and Waterworld. Those movies were disappointments, but Fandango is something very different, a magnificent character-driven film that indicated both Reynolds and Costner were bound to do great things — those bloated budgets and epic-length shoots were still far in the future. Costner stars as Gardner Barnes, a Texas college student in 1972 who gets drafted at graduation along with his buddies Phil (Judd Nelson) and Ken (Sam Robards). Considering that they may be doomed to an early death in the jungles of 'Nam, the trio, along with two other frat brothers, hop into Phil's sedan and speed across the Texas desert towards the border, where they intend to dig up somebody (or something) named "Dom." It is their final chance to exploit the "privileges of youth," and as road movies go, Fandango is one of the better ones, casting linear plot aside and building characters through many short episodes — a fireworks fight in a cemetery; a dare to skydive from a plane flown by a stoned idiot; an impromptu visit to the abandoned film set of Giant, where James Dean once walked the earth. Costner's youthful, cocky performance as the irresponsible Gardner forms the centerpiece of the film, and Reynolds takes advantage of his script to create some marvelous set-pieces (that final, lantern-lit fandango is one of our favorite movie moments of all time). Film buffs can also keep their eyes open for Suzy Amis as the girl whom both Gardner and Ken love — she also made an appearance in Titanic as Rose's current-day granddaughter.
The good news about Fandango as a possible DVD release? It's a Warner film, and they haven't been holding much back with their DVD titles. The bad news? It's also an Amblin production. That's right, this is one of those "Spielberg Factor" films (impressed by Reynolds' student film Proof, on which Fandango is based, The Man served as an uncredited executive producer). It's possible that Warner could street a DVD on their own, but we doubt it. If you ask us, we'll see a Fandango disc when Steven Spielberg decides we will — and with everybody clamoring for Spielberg's best-known films on DVD, that could be a long time from now.

Quotable: "People are going to say whatever they want to say. I liked my performance in Con Air. As long as I am doing things that stimulate me, who cares what (the critics) are going to say? As long as I feel sincere. And I do feel sincere about the action movies."
— Nicolas Cage, in a recent interview with Reuters.
Cage's next film, Bringing Out The Dead
(written by Paul Schrader and directed by Martin
Scorsese) is due to arrive in American theaters on
Oct. 22.
"Physically, psychologically, I don't think I could do another season. I'm just spent... I think it would be a mistake to draw it out. You want to go out with a modicum of respect."
— X-Files star Gillian Anderson, in an interview
with Access Hollywood, only adding to the
rumors that this year will be the last for
The X-Files on TV, although producer
Chris Carter has said there will be more
theatrical films.
See ya tomorrow.
— Ed.
---
Wednesday, 6 October 1999
---

DVD still boomin': The Consumer Electronics Manufacturers Association (CEMA), released their third-quarter sales figures yesterday, and (to nobody's surprise) the format continues to grow at a dizzying pace. 900,000 DVD players were shipped to retailers during the July-Sept. period, and the year-to-date total is now 2.2 million units, compared to 800,000 shipped during the first nine months of 1998 (you dorky math geeks out there probably have already figured out that those numbers represent a 300% increase). CEMA is predicting that the total players shipped to retailers by the end of '99 will be in the three million range for the year, and the total installed-base since the format's launch (in April 1997) should be more than four million by New Year's Day.
The DVD Video Group (www.dvdvideogroup.com) also released new DVD software numbers yesterday, and nearly 55 million discs have been shipped to retailers during the previous nine months, bringing the full total since April '97 to a whopping 110 million discs in the hands of retailers or consumers. "DVD Video is exceeding all our expectations," Paul Culberg, president of the DVD Video Group, noted in a statement. "Consumers know a good product when they see it." Total DVD titles released (in all categories — film, music, educational, etc.) have now surpassed 4,000 — a number that should swell to 5,000 by the end of '99.
Artisan looks to grow: Artisan, the studio behind The Blair Witch Project and a strong supporter of DVD, is planning to expand early next year with their first public offering of stock, along with potentially selling part of the enterprise to a European firm. Either move could see as much as 20-40% of Artisan on the block, but aligning themselves with a European provider would doubtless bring more Euro-titles to Region 1 DVD (both France's Canal Plus and Germany's Kirch are considered to be merger contenders), and the overall value of Artisan could be more than $400 million by next year. Formerly known as Live Entertainment, Artisan was purchased for $120 million in 1997 by two private firms and has since become one of the most profitable content-providers in North America.

Mailbag: Wednesday is mail day here at The DVD Journal, and we have one of the best letters we've received in a long time:
Allow me to preface this by saying that this is a letter I feel I should probably be writing to the suits behind Buena Vista's DVD department — an opinion I'm sure will be shared by any number of angry consumers. I'm sure it's no news to you folks that Buena Vista has been a fairly low-rent distributor of DVD software. High prices and discs notoriously uncontaminated by precious extras seem to be the order of the day in the house of The Mouse.
You're probably already well aware of the fact that they've now pressured Canadian distributor Alliance/Atlantis out of releasing superior editions of titles that BV has reign over in the States. Alliance/Atlantis (www.alliancevideo.com) has been making something of a name for themselves by putting out relatively feature-packed DVDs with nice transfers (often 16x9-enhanced). Their website has advertised the fact that these videos are authorized for sale only in Canada, but their discs are still Region 1, and it hasn't been terribly difficult to find Canadian retailers willing to ship over the border. This apparently upset Buena Vista. It seems that (according to odd reports), Buena Vista feels that Alliance is making them "look bad", and exercised considerable pressure (no doubt via strong-arm legal tactics) to cease putting out duplicate titles with more features at a lower price.
Perhaps I've been a blind consumer. I own one or two Buena Vista titles, principally because they were films that I desperately wanted in my collection and had no other choice but to bite down hard and swallow the shoddy treatment of fine films I've come to love. But to discover that this corporation that purportedly prides itself on "family values" is driving other legitimate companies out of business? Now who's really making who "look bad"?
This, for me, primarily affects two upcoming titles from Alliance — the Rodriguez/Tarantino flick From Dusk Till Dawn and Kevin Smith's Chasing Amy. In some way, I suppose I can understand the move to intervene with the former. There exists an American edition, one with no extras. Overpriced to boot. But Chasing Amy? We as consumers don't have a release date for this film from Buena Vista, much less even a promise that the title is in development. I suppose we're now to sit on our hands, sheepishly waiting for it to be abused by a company that obviously doesn't care about the films they own rights to.
And who does this benefit? I was always under the impression that Buena Vista marketed toward the 'average American' consumer — Joe Lunchpail who shops at Suncoast, spends whatever ridiculous price he has to for a featureless, poorly compressed version of Armageddon, not the passionate film buffs, the ones who typically care about supplements, transfers and price — the ones who would think to shop for imported films over the Internet. How much could these Canadian editions really have been affecting their sales? What's even more disturbing is (and not to get on a McCarthyite bent) how patently un-American this all feels. Do we not live in a country that maintains that a competitive free enterprise market is a pillar of our capitalist system? That multiple vendors would encourage competition, ultimately creating the best product at the lowest price, benefiting the consumer in the long-run? Does this not reek of monopoly? Who is making whom look bad?
Not to say that Alliance is without blame in this regard. They did back down, ostensibly without any concrete legal reason. Buena Vista is the financial powerhouse with the resources to destroy those who challenge them, and Alliance is the underdog distributor. But the consumer loses again.
Sorry to go off on a rant, but The DVD Journal is the one place whose opinions I pretty consistently respect, and felt no other outlet of discourse. Let it be known — I'm selling my copy of Rushmore and waiting for Criterion to release what will certainly be the definitive edition. I'd encourage anyone else fed up with The Mouse's practices to do the same.
— John
Thanks for your letter John — we decided to run your comments in their entirety because we thought your words were both passionate and genuine.
As for the Disney/Alliance brouhaha, the hush-hush news that The Magic Kingdom was cracking down on Alliance DVDs appeared last week (by our take, first at The Digital Bits), and in the rush of release news, we never got around to posting a follow-up. But it appears to be true — the content-laden DVDs of Buena Vista titles (mostly Miramax) that Alliance had been releasing will probably come to an end, reportedly because Disney was frustrated by the amount that were getting across the border. But a few things should be noted, unpopular as these comments may be. First, Disney isn't beating up on Alliance or Miramax. The fact is that they own Miramax and have done a nice job of supporting the studio as their specialty film division under the direction of Bob and Harvey Weinstein, who founded the indie-flick company. Alliance simply has a license to release Miramax titles in Canada, and they aren't about to go "out of business" by a long-shot — they will still produce Region 1 editions of Buena Vista titles, although they reportedly will have to be comparable to the U.S. releases. And when it comes to the idea of a "monopoly," you had better believe that Disney has one with their own property. We have a monopoly over this webpage that you are reading right now. You have a monopoly over everything you own or produce. Therefore, whether we like it or not, it's not hard to understand why Disney thinks they should have some say over home-video releases of Miramax titles in any country. Furthermore, despite the "family values" image of Disney (whatever that means), the studio — like all others — exists to make a profit, and we aren't the sort of people who bash legal profit-seeking per se. That's why films are made and why DVD was invented. It's why all of us go to work every day, and if Disney fails to make money with their tightwad approach to the DVD format, that's their problem — but we'll have to stop buying and renting Buena Vista DVDs first.
But with those free-market caveats out of the way, we mostly agree with you — Disney's overall lack of support of DVD in comparison to the other studios is not just disappointing, at times it's deflating. We have the Alliance edition of Trainspotting in our library, and we purposely avoided purchasing the Buena Vista edition specifically because we knew that the Alliance release with its extra content was available. It appears that we are not alone — nobody knows the details of the arrangement, but it's unlikely that The Mouse would have asked (perhaps demanded, perhaps even paid cash) that Alliance discontinue their Miramax releases if U.S. consumers weren't buying them, and apparently Yanks have been buying a lot of them. We are thus left with three recourses — buy featureless Buena Vista DVDs, rent them, or boycott the Magic Kingdom. We believe that consumers have as much power in the marketplace as vendors (perhaps more), and if you intend to boycott Disney, we won't criticize your position as a consumer and die-hard DVD fan. As for us, we usually rent the Buena Vista stuff. But according to some reports, Disney partners Miramax and Pixar have kvetched about the relatively feature-free DVD editions of Shakespeare in Love and A Bug's Life, prompting special editions to be announced only months later and effectively deep-sixing the original releases. And to be fair, Buena Vista is the only major studio that has established a relationship with our much-loved Voyager/Criterion, and we're not going to bitch about that. With the end of Alliance releases, we hope these trends will continue.
Top of the Pops: Here's the top-selling DVDs last week from our friends at
Reel.com. Click the links to read our reviews of these discs:
Days of Thunder
Later.
— Ed.
---
Tuesday, 5 October 1999
---

Sinbad sets sail: Columbia TriStar has been scoring big points with digital die-hards in recent weeks with some highly anticipated catalog titles, and yesterday's announcement of a new DVD of the 1958 The 7th Seventh Voyage of Sinbad is bound to bring a smile to all fans of stop-motion animator Ray Harryhausen. Could Columbia TriStar have been prompted by Universal's super-cool DVD of The Mummy: Collector's Edition and its slew of battling corpses? Decide for yourself — the new Sinbad disc will feature a documentary called "The Ray Harryhausen Chronicles," a look at the animation in another documentary entitled "This Is Dynamation," two interview segments ("A Look Behind the Voyage" and "Jason and the Argonauts"), and textual supplements on the cast and crew, including Harryhausen, Nathan Juran, Kerwin Matthews, Kathryn Grant and Torin Thatcher. The package is due to arrive on Nov. 30 — online pre-orders should be around 17 bucks.
In the Works: Let's get a look at some other new disc announcements posted recently at Image Entertainment:
Did ya fork out your hard-earned cash for Buena Vista's recent Shakespeare in Love DVD? Don't say we didn't warn you, because Shakespeare In Love: Collector's Series is due on Dec. 7, and will include two commentary tracks (one with director John Madden, the other with the cast and crew), deleted scenes, and other assorted bits and pieces. However, the traditional sticker-shock at the Mouse House is still there, and the new Shakespeare disc carries a suggested retail price of $39.99 (about 24 bucks pre-ordered online). Also expect new Buena Vista releases of Everest: IMAX (Dec. 7) narrated by Liam Neeson, and the live-action Inspector Gadget (Dec. 7) starring Matthew Broderick and Rupert Everett.
Look for a double-feature of Jack Nicholson from Paramount with both the 1975 Chinatown and 1992's The Two Jakes due on Nov. 23. The Chinatown disc will include interviews with Roman Polanski, screenwriter Robert Towne, and producer Robert Evans, and both films will include trailers.
Paramount has a double-feature of '90s animation in the works with both Beavis and Butt-Head Do America and South Park: Bigger, Longer and Uncut. Both will be 16x9-enhanced, but the only extras will be trailers. And despite the title, the South Park disc will not be the truly "uncut" edition rejected by the MPAA ratings board, leaving the reportedly outrageous first version in the territory of gossip and speculation. The acclaimed U2 concert film Rattle and Hum is also on the way, as are two more classic Star Trek TV discs, with the episodes "What are Little Girls Made Of?" "Dagger of the Mind," "Miri," and "The Conscience of the King." Look for everything on Nov. 23.
Not to be left out of the Jack Nicholson DVD festival, Columbia TriStar will street a new disc of the 1970 Five Easy Pieces (Nov. 16), as well as Peter Bogdanovich's 1971 The Last Picture Show: Special Edition (Nov. 16), which will feature a new restored director's cut with an additional eight minutes of footage, a 65-minute documentary, a featurette, and trailers. Also look for new Columbia TriStar discs of Limbo: Special Edition (Nov. 23) with a commentary by director John Sayles, The Loss Of Sexual Innocence: Special Edition (Nov. 16) with a commentary from director Mike Figgis, Robert Redford's A River Runs Through It (Nov. 23), and Gregg Araki's Splendor (Nov. 23).
Finally! A box-set that doesn't suck! Columbia TriStar has a "Wolfgang Petersen Three-Pack" due on Nov. 16, with Das Boot: The Director's Cut, Air Force One, and In the Line of Fire. Suggested retail is $75.95, but cheaper online (natch).
Um, some of you might want to sit down. The lack of Star Wars on DVD is moldy old news around here that we'd rather let die, but it's damn hard with Passport releasing a documentary DVD called Stars of Star Wars (on the street now), featuring interviews with the stars and filmmakers of both the original Star Wars trilogy and The Phantom Menace, footage from both the opening days of Phantom and the 1997 Special Edition re-releases, and even interview footage with George Lucas, Liam Neeson, Samuel L. Jackson, Natalie Portman, Mark Hamill, Carrie Fisher, Harrison Ford, and others. Mr. Lucas won't release the films on DVD, but apparently we can have the extras. Gee — thanks!

On the Street: Street Tuesday today includes such classic titles as All About Eve, A Fistful of Dollars, and the 1954 A Star is Born. Also on the board are the popular comedies Big, Home Alone, and Mrs. Doubtfire. Here's this morning's notable street discs, courtesy of Reel.com, :
All About Eve
Big
Bride of Re-Animator
The Dark Crystal
A Fistful of Dollars
Home Alone
I Know What You Did Last Summer/I Still Know What You Did Last Summer (2 DVD Set)
Immortal Beloved
Mrs. Doubtfire
Night of the Living Dead
Rawhead Rex
A Star Is Born (1954)
This Is My Father
A noteworthy passing: Akio Morita, co-founder of Sony and the genius behind numerous consumer-electronics innovations, died last Sunday. Arguably the most innovative of all CE empires, Morita's Sony Corp. can be credited with creating the first all-transistor television, the first home-video tape-recorder, the Trinitron television tube (the monitor of choice at The DVD Journal), and the mega-selling PlayStation system. Morita himself invented the Walkman, which was first introduced in 1979. While there were missteps (who here owns a Betamax?), Sony invested in the content market in recent years with Sony Pictures and Sony Music, both current-day media powerhouses. And to think that it all started when Morita and his pal Masaru Ibuka formed a business partnership many years ago with a mere $500 in capital because they wanted to start a radio repair shop. Morita was 78.
— Ed.
---
Monday, 4 October 1999
---
And the winner is: Mike Gehman of Washington, D.C., wins the free DVD of Taxi Driver: Collector's Edition from our September contest. Congrats, Mike!
Our Free DVD Contest for the month of October is up and running, and we have a copy of New Line's A Nightmare on Elm Street up for grabs. Be sure to drop by our contest page and send us your entry, and don't forget to take our Monthly DVD Poll while you're there.

Get ready to rock: The animated rock 'n' roll fantasy Heavy Metal has been one of the most requested Missing in Action DVDs from DVD Journal readers, and Columbia TriStar announced late last week the feature-set of their upcoming "collector's edition" disc, including:
Digitally remastered audio and anamorphic video
Documentary "Imagining Heavy Metal"
Deleted scenes
Feature-length rough cut with optional commentary by Carl Macek
Production photo gallery
Heavy Metal magazine cover gallery
"Neverland" deleted scene
Pencil portfolio with animation
Single and layered cels portfolio
Conceptual art gallery
Production notes
Carl Macek reading his book Heavy Metal: The Movie
That classic rock soundtrack will be on board too (natch), with tunes from Black Sabbath, Devo, Blue Oyster Cult, Journey, Stevie Nicks, and Sammy Hagar in the remastered 5.1 mix. The full package is due on Nov. 23, and we're expecting pre-orders at
Reel.com and other online retailers to run around $17.00.

Disc of the Week: Combine the time-honored animation of both Disney and Warner Brothers with the production talents of Steven Spielberg and George Lucas, and something special is bound to happen — in this case, Who Framed Roger Rabbit?, the incredibly inventive mix of animation and live action from 1988 that has yet to be surpassed, or even imitated in any substantial way. Bob Hoskins stars as L.A. private detective Eddie Valiant, a gumshoe who hates "Toons," the denizens of Toon Town who ply their wacky trade in Hollywood's many short animated films. But when top Toon Roger Rabbit is unable to work because he's distraught over his relationship with his wife — the voluptuously drawn Jessica Rabbit — Valiant is hired to sort things out. It is when Roger is implicated in the death of a Tinseltown bigwig who may have been having an affair with Jessica that Valiant finds himself on the trail of a conspiracy that could bring down Toon Town and change the face of Southern California forever. The only problem is that Valiant hates Toons. Why? Because his brother was killed by a Toon (apparently a piano was dropped from a great height), and he regards the diminutive performers to be little more than two-dimensional, primary-colored vermin. Who Framed Roger Rabbit is a genuine classic in both the animation and special-effects categories, and the gang's all here — Mickey Mouse and Bugs Bunny share a scene, as do Daffy Duck and Donald Duck. Distracted extras from Fantasia wander the back lot, and Tinkerbell gives Porky Pig an unforgettable kiss. In the midst of the anarchy is Hoskins, a gruff link to reality (he also has the best Yank accent of any British actor on film). Buena Vista has delivered a marvelous edition of this film on DVD. The source print is rich with color and detail, and entirely free of damage. However, points must be knocked off for one big reason — if there ever was a film that demanded special-edition content, Who Framed Roger Rabbit? is it, and this disc offers absolutely no extras, not even a trailer. It's unfortunate that the Mouse House wouldn't dig up a few extras on the marvelous optical processes from Industrial Light & Magic that brought this film to life, because part of the fun of the DVD format is that it can reveal the magic behind the movies. We're hoping that Buena Vista sends this one over to Criterion before much longer (as they have with Armageddon and the upcoming Criterion edition of Rushmore) or undertake a super-sized release like their upcoming Collector's Edition of A Bug's Life. Until that happens, treat yourself to a rental of this unusual gem.

Box Office: Warner's critically acclaimed Three Kings, starring George Clooney, Mark Wahlberg, and Ice Cube, had a strong opening with $16.3 million, but failed to nudge last week's top movie, Paramount's Double Jeopardy, from the top spot at U.S. theaters — it bagged another $17.2 million. DreamWorks' American Beauty starring Kevin Spacey, is still gaining steam, grossing $8.3 million and taking third place, while Buena Vista's The Sixth Sense continues to do strong business, adding $7.2 million to its monumental $234 million gross and remaining in the top five after two months in release. However, Buena Vista's Mystery, Alaska, starring Russell Crowe and Burt Reynolds, opened with an underwhelming $3.3 million in ticket-sales. How big of a stinker is Robin Williams' Jakob the Liar? After opening with a meager $2.2 million last week, it only scraped a further $1 million in receipts over the weekend, and the normally bankable Williams (Patch Adams) belly-flopped out of the top ten in a matter of days. Here's the top-grossing films at American theaters from last weekend:
Double Jeopardy (Paramount)
$17,200,000 ($47,400,000 to date)
Three Kings (Warner)
$16,300,000 ($16,300,000 to date)
American Beauty (DreamWorks)
$8,100,000 ($18,300,000 to date)
Blue Streak (Sony)
$8,000,000 ($47,700,000 to date)
The Sixth Sense (Buena Vista)
$7,200,000 ($234,700,000 to date)
Drive Me Crazy (Fox)
$7,100,000 ($7,100,000 to date)
For Love of the Game (Universal)
$3,400,000 ($28,300,000 to date)
The Adventures of Elmo in Grouchland (Sony)
$3,300,000 ($3,300,000 to date)
Mystery, Alaska (Buena Vista)
$3,100,000 ($3,100,000 to date)
Stigmata (MGM/UA)
$2,300,000 ($44,300,000 to date)
Stir of Echoes (Artisan)
$1,200,000 ($17,700,000 to date)
Jakob the Liar (Sony)
$1,000,000 ($3,700,000 to date)

Quotable: "I think Arnold Schwarzenegger is a brilliant man. He's a self-driven man, he's a self-made man. I think Arnold Schwarzenegger can be good at anything he desires to do, whether it be body-building, movie acting, or be a governor, I think he could do an outstanding job. (But) my advice to Arnold as a friend is 'Continue with your movie career, Arnold. Don't get involved in (politics). It won't be worth it to you.' "
— Minnesota Governor Jesse Ventura, commenting
on Arnold Schwarzenegger's recent suggestion
that he may run for governor of California in 2002.
Ventura himself recently came under fire for
comments he made in a Playboy interview
regarding the legalization of drugs and prostitution,
as well as criticism of organized religion.
Schwarzenegger later terminated the chatter,
insisting that he will remain in Hollywood.
"You want to know my definition of gun control? Being able to stand there at 25 meters and put two rounds in the same hole. That's gun control."
— Gov. Jesse, whom we admire from a great distance.
On the Board: A new full review has been posted for Excalibur, and can be found on our Full Reviews index. New quick reviews this week include Who Framed Roger Rabbit?, Breakfast at Tiffany's, The Professionals, The Englishman Who Went Up a Hill But Came Down a Mountain, and Dangerous Minds, and can be accessed under the New Reviews menu here on the main page.
We'll be back tomorrow with news on this week's street discs.
— Ed.
---
Friday, 1 October 1999
Weekend Dispatch
---
We're tired, dammit: With the end of the month (and the third quarter of '99), we've decided to take a three-day weekend in order to do some site maintenance and catch up on our DVD reviews. But for those of you dying for some sort of DVD tidbit, Columbia TriStar announced yesterday that they will release a special-edition disc of the cult classic Heavy Metal on Nov. 23 with an absolute pile of extras, including a commentary track and deleted scenes. We'll let you know more about it on Monday, along with new reviews of Excalibur, Breakfast at Tiffany's, and a few other recent DVD releases. We'll also announce the winner of our September contest (will you win the free DVD of Taxi Driver: Collector's Edition?), and since we're just too lazy to bother with the contest right now, we will continue to accept September entries through Sunday on our Contest Page.
We're off to drink some beer — we hope you get a chance to do the same. Have a great weekend, and we'll see all of you on Monday.
— Ed.
---