---

The DVD Journal was founded by Robert Wederquist, who is a graduate of the University of Oregon (Eugene, Ore.), where he received a double-B.A. in both English and Telecommunications/Film, and Essex University (Wivenhoe, Essex, England), where he received his M.A. in English and American Literature. He has held the positions of Executive Editor at Columbia River Newspapers (Portland, Ore.), Associate Editor at Portland Living Magazine, and Managing Editor at American Venture Magazine. He currently works as a Web developer at an Internet-based software company, and served as an adjunct instructor of English writing and literature at a local college from 1995-1998.
---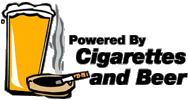 This entire website is typeset in an ordinary word-processing program
because we can't find any HTML software that doesn't piss us off.
Our squinty-eyed lawyers have informed us that all information
contained within The DVD Journal website is protected
under U.S. and international copyright laws.
© The DVD Journal, 1998-2006.